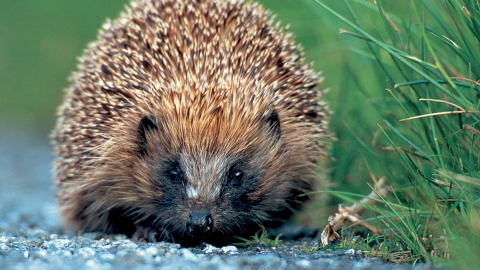 Course: Hedgehog Ecology
Location:
Kingsway,
Gloucester
A lively introduction to the habits and conservation of one of Britain's most beloved mammals - the hedgehog.
About the event
Lead by Gloucestershire Wildlife Trust's Nicola Simpson, come and learn some prickly basics – hedgehog biology, ecology, conservation status and decline, and UK legislation.
Try your hand at the latest survey methods: footprint tunnels, camera trapping and scat analysis to uncover what hedgehogs are eating.
Some of the course will be out and about in Kingsway looking at land management for hedgehogs – practical advice on potential improvements that can be made to help hedgehogs.
Suitable for anyone with an interest in hedgehog conservation, and for those who wish to get practical experience in conserving this iconic creature.
Summary
Location: Kingsway, Gloucester
Tutors: Nicola Simpson
Date: Friday 9th August 2019
Time: 9:30 - 16:00
Level: Beginners, enthusiasts and professionals all welcome
Age: 18+ (14-17 year olds can attend for free with a paying adult)
Refreshments included
Price: £49 per person, or £53.10 per person plus guide. 
Course expectations
At the end of the course participants can expect to feel confident in the fundamentals of hedgehog ecology and conservation.
About the tutor
Nicky's expertise in human–wildlife conflict has taken her all over the world, from Kenya to Australia, and the Caribbean to the Galapagos, where she met Lonesome George, the last Pinta tortoise.
It was as a child in the Midlands that Nicky's love of wildlife began, watching hedgehogs in her garden. A teenage move found her spending weekends walking the Yorkshire coast, and led her eventually to a Master's degree in Conservation and Biodiversity and field studies in Kenya, where human-wildlife encounters are on the giraffe and rhino scale – especially when they wander through camp.
Back in the UK, Nicky volunteered for the Wildlife Trust for Birmingham and the Black Country, and was quickly employed to inspire urban communities to improve land management for wildlife. After honing her community skills further in challenging farm-to-fen restoration she moved to the Gloucestershire Wildlife Trust where she is currently the Urban Wildlife Manager and leading the Hedgehog Way project.
Programme
09.15 : Registration and refreshments
09.30 : Welcome and introductions
09.45 : Introduction to hedgehog ecology and behaviour
11.15 : Threats to hedgehog population, and their conservation
12.30 : Lunch (Bring packed lunch. Hot drinks provided)
13.00 : Hedgehog survey techniques overview
13.30 : Practical land management and surveying. Including an outdoor session
15.30 : Refreshments: Discussion and review of the day
16.00 : Course ends
All timings are approximate. This is an outline programme and may change according to the weather, group requirements or wildlife factors.
What we provide
Light refreshments
All equipment needed
Course pack
Relevant guide books
Certificate of Attendance
What to Bring
Weather appropriate outdoor clothing (we advise clothing to cover arms, legs and feet).
Appropriate outdoor footwear with good grip.
A packed lunch and water.
Recommended:
Notebook and pencil
Camera
Useful Guides
Bullion (2001) FSC Fold-out Chart – Mammal Tracks and Signs
Meeting point/Location
Kingsway Community Centre, Thatcham Avenue, Kingsway, Gloucester GL2 2GT
Parking and Transport
There is free parking on site.
Accessibility and Health
If you have relevant medical or access requirements please let us know when booking.
The Kingsway Community Centre has level access and a disabled toilet.
Field tuition is approximately 2 hours on sometimes rough and slippery terrain.
Please contact course organiser Ellen Winter for more details - we are happy to work with you to facilitate attendance wherever possible.
About the Field Site
As a relatively new estate, suburban Kingsway is prime hedgehog habitat on the edge of Gloucester. Ideal for teaching hedgehog habits, it retains areas of woodland and water from the farmland it was prior to development. We will start from Kingsway Manor Farm Park and explore greenspaces, countryside connections and other features that may help and hinder hedgehogs, and see what improvements could be made.
To read our Events Cancellation Policy, please click here.
Booking
Price
£49 per person, or £53.10 per person plus guide.
Know before you go
Dogs
Due to the sensitivity of the wildlife, not even registered assistance dogs are permitted
Mobility
Those with limited mobility please contact the event organiser in advance