As well as being nationally important for wildlife, Crickley Hill has played a notable role in the history of the area. People lived here at various times until about 500AD.
The first permanent residents were a community of perhaps 50-100 people who built a village around 5,700 years ago. These Neolithic (New Stone Age) people were among the earliest farmers in Britain, having arrived from the continent. Later, Iron Age hill forts developed, and finally a post-Roman village.
Between 1969 and 1993 a team of archaeologists carried out excavations at Crickley Hill, and nearly 1,000,000 artefacts were found, which is why we know so much about the people who used to live here.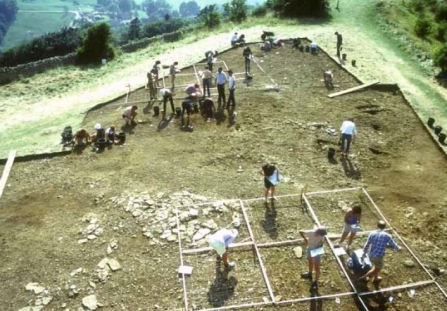 If you look closely you may be able to see the marks that people through history have left on the landscape here. Areas of Crickley Hill have been designated as a Scheduled Ancient Monument.
Only nationally important archaeological sites can be given this status, and it means that the historic features at Crickley Hill will be protected for future generations.