Greystones offers a unique experience for school groups, with a working farm, nature reserve and important archaeological site dating back to the Neolithic period, all on one site.
Including workshops linked directly to Science and History curriculum units, the primary schools programme provides a hands-on creative way of learning, and is tailored to meet the needs of schools and teachers.
Take a look below to find out more about some of the experiences available to schools as part of the programme.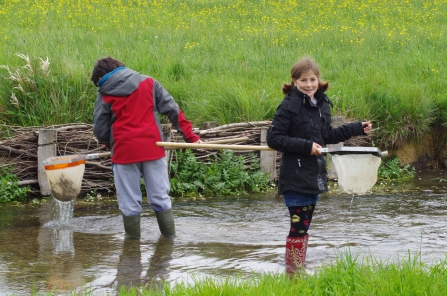 Key Stage 1
Mini Beast Detectives – using sweep nets, magnifying glasses, and other tools, pupils can study and identify a range of invertebrates while comparing land and water habitats to discover how mini-beasts they find are adapted to their habitats.
The Seasons and our Senses – a fun hands-on workshop that offers pupils the chance to explore seasonal changes in a number of different environments. Pupils will find out more about the natural world and how weather affects the plants and animals living there
Animal Experts – children have the opportunity to look for animal tracks and signs in a range of habitats. They'll dip into the River Eye and learn about both water and animal food chains.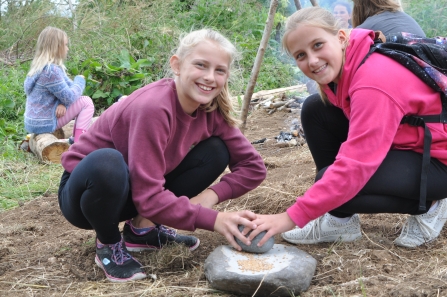 Key Stage 2
Iron Age Experience Day – divided into two parts, the day allows pupils to immerse themselves in Iron Age life in the full size roundhouse and to explore the work of archaeologists across the reserve, helping to develop an enhanced understanding of Iron Age life and historical investigation skills.
River Study – a full day workshop that allows pupils to immerse themselves in a River Study that sees them map the River Eye, labelling key features and testing the velocity and depth of the river. Pupils can explore the human impact on the river, search for evidence of riverbank dwelling mammals and use scientific field guides to identify the invertebrates and fish they discover.
Natural Navigators – using an 8 point compass and maps, children orienteer through a varied landscape, looking for clues along the way. They'll learn quickly to use grid references, keys and symbols while competing to find clues and solve puzzles