People have lived and farmed at Greystones for 6,000 years.
Today it is run by Gloucestershire Wildlife Trust as a place where nature can thrive and for people to explore. We are passionate about protecting and restoring wildlife and hope you enjoy your time here.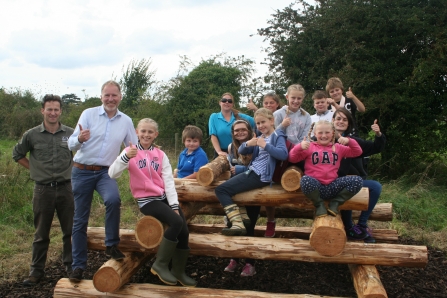 Wild play trail
Wooden structures are dotted through the nature reserve for children to enjoy.
Wildlife and the nature reserve
Gloucestershire Wildlife Trust works to ensure that nature thrives at Greystones. The nature reserve at Greystones is open all year round, with free entry. Some species such as water voles, barn owls and otters nearly became extinct at Greystones but have made a spectacular comeback because of our work.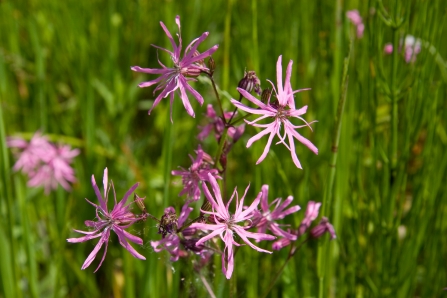 Wildflowers
Gloucestershire Wildlife Trust carefully manages the land to ensure that wildflowers thrive and we are proud that Greystones has the important status of a Site of Special Scientific Interest. Our hay meadows support a stunning range of wildlife and wildflowers. In the spring and summer you will see great burnet, southern marsh orchids, early marsh orchids, ragged robin, devil's-bit scabious, meadowsweet, knapweed and yellow rattle. These flowers support butterflies including orange-tip, meadowbrown, brimstone, small copper and ringlet. We are also working to restore the hay meadows which were damaged from the 1940s onwards, with the aim to bring local wildflowers back to these areas of Greystones.
Hedgerows
The hedges at Greystones are a vital source of food and shelter for wildlife. Birds eat the fruit, berries and seeds and may nest in the hedgerows. Look out for blackbirds, bullfinches, long-tailed tits and blackcaps, and in the winter for redwings and fieldfares. Hedgerows are also important for harvest mice, bank voles, hedgehogs and bats.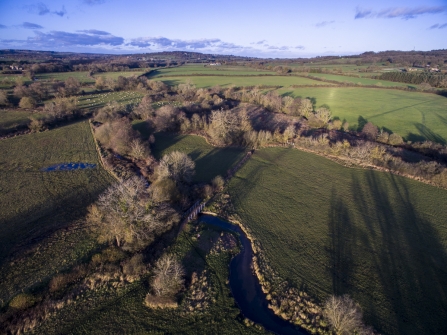 River Explorer Zone
The clean rivers that run through Greystones are full of wildlife. Tiny fish can be seen in the river all year. Fresh-water shrimps, mayflies, damselflies and caddisfly nymphs (the aquatic larval stages of river flies) can be found beneath the stones, in the mud and among aquatic plants.
In the summer look out for dragonflies and damselflies, such as common blue damselflies in the meadows close to the river, and banded demoiselles and beautiful demoiselles hovering over the river.
On the bridge, listen for water voles rustling among the dense plants, and for the distinctive 'plop' as they enter the water. Water voles used to be common on rivers across England, but because their habitat is being destroyed and fragmented they are now rare. Thanks to Gloucestershire Wildlife Trust, the area around Greystones now has one of the largest populations of water voles in the Cotswolds.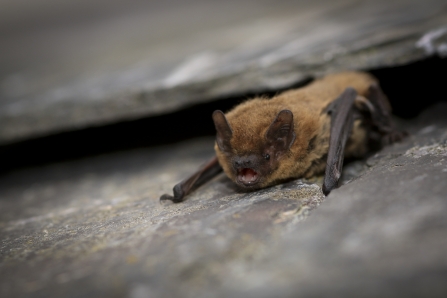 Buildings for wildlife
We've created homes for bats, owls and other birds at Greystones. Common and soprano pipistrelles, Natterer's bats, long-eared bats and lesser horseshoe bats roost and search for food around the yards at Greystones. Barn owls roost in the buildings and hunt for rodents and shrews in the rough grassland adjacent. Swallows and house martins nest in farm buildings and under eaves, gathering mud for their nests from the yard. Pied wagtails stalk the yards and rooves looking for insects.
The lakes
The neighbouring lakes provide an additional, still-water habitat for wildlife, and are important for many species. You may see dragonflies, herons, egrets, cormorants, coots, great crested grebe, hobbies, and sedge warblers. Winter visitors include tufted ducks, pochard, goosander, mallards, mute swans, greylag and Canada geese.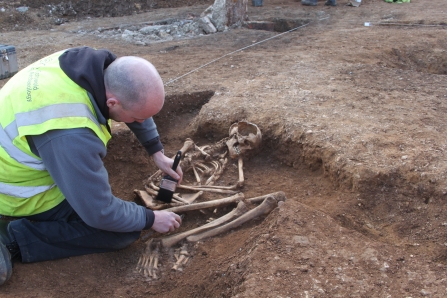 History
Greystones has been an important meeting place since the Neolithic (New Stone Age) era, more than 6,000 years ago. People travelled here to hold ceremonies and festivals and to trade. 
During the Iron Age it became one of Europe's earliest known 'towns', protected by ditches and huge walls (ramparts). Pots, currency, a weaving comb, horse equipment, arrowheads and even skeletons from the Iron Age have been dug up at Greystones. The Dobunni tribe made tools from iron and traded with other groups. Our replica Iron Age roundhouse is open for special events and for school groups. 
Greystones has been officially recognised for its important archaeology, with the Neolithic and Iron Age area noted as a Scheduled Ancient Monument.
Archaeologists at Durham University have been researching the history of Greystones, as part of the European REFIT project.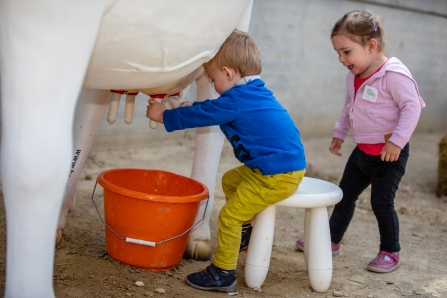 Farming
People have farmed at Greystones for 6,000 years. Gloucestershire Wildlife Trust is reintroducing traditional farming methods to help wildlife to thrive. We now make hay using traditional methods, helping to restore our wildflower meadows. Cows graze the meadows, helping to create space for wildflowers to grow. In the farmyard you'll see the Freedom Milking Parlour, where the cows decide when to be milked! The milk is used to make Simon Weaver's Single Gloucester Cheese, which is unique to Gloucestershire.