The pine marten desperately needs your help to set up home again in England
The pine marten is the UK's second rarest carnivore. They are a member of the mustelid family, related to stoats and otters, and are similar in size to a domestic cat. It has a slim body, brown fur with a distinctive cream 'bib' on the throat, a long bushy tail and prominent rounded ears.
Pine martens live in woodland habitats, and are highly agile with excellent climbing skills. They have a broad diet which includes small mammals, birds, invertebrates and large quantities of berries when in season. The pine marten was exterminated from much of England due to over zealous gamekeepers in Victorian times. Totally eradicated through no fault of his own.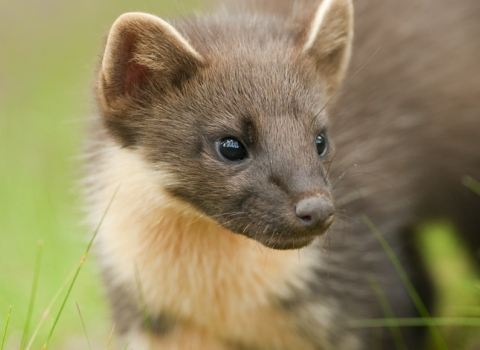 Without a helping hand, we risk losing this charismatic character forever.
Together with the Vincent Wildlife Trust and the Forestry Commission we hope to put our plan into action – to reintroduce this marvellous animal back to the Forest of Dean, it's original home. It's an ambitious project and it's not without it's challenges.
Donate
MISSION Pine Marten
We plan to bring a small population down from Scotland to reintroduce it to the Forest of Dean – the first major population in England for centuries.
The aim is for the population to link up with a recently established Welsh pine marten population – these two populations will mutually strengthen each other and greatly increase the chances of their survival across England and Wales.
Our team will be on hand to make sure the new Forest of Dean population has the best chance to settle in and thrive.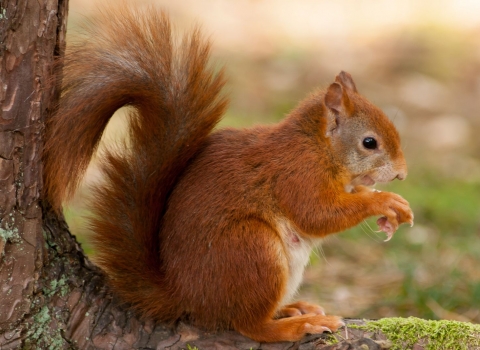 Benefit to other wildlife
Reintroducing the pine marten into the Forest of Dean will also benefit other wildlife and the forest ecosystem. Pine martens will bring a balance to nature. Irish and Scottish populations have proved to help red squirrels fight back against non-native grey squirrels.
Donate
Did you know? The collective noun for pine martens is a 'richness'
Dr Andrew Stringer
It is Dr Andrew Stringer's job (the MISSION Pine Marten Project Manager) to put everything in place so we have the very best chance of success – we started investigated the feasibility of reintroducing the pine marten to the Forest of Dean and lower Wye Valley back in 2016.
We need to raise enough funds to complete the project, and we can't do it without you.
A gift today will help us raise enough money so that we can bring the population of pine martens down to the Forest of Dean and provide support and monitoring for them to settle into their new home and thrive.
£50 could help us build and put up a pine marten den box for reintroduced pine martens to live securely and raise their young.
£100 could go towards a monitoring station or camera so that we can keep an eye on their progress.
£500 could help pay for a pair of tracking collars to allow us to closely monitor individuals.