In summer 2016, Gloucestershire Wildlife Trust, Forestry England, Forest Research and Vincent Wildlife Trust, supported by Forest Holidays and the Woodland Trust, began a collaborative project investigating the feasibility of reintroducing pine martens to the Forest of Dean and lower Wye Valley. The project draws on international reintroduction guidelines to help us ensure any reintroduction is of the highest possible standard. Pine martens are one of Britain's rarest mammals (our second rarest carnivore), and are mostly found in Scotland and central Wales. They are a member of the weasel family, that live over large areas at low density (1 per 100 hectares is considered a high-density population). They live in woodlands and their main prey are small mammals, but they have a broad and varied diet, for instance eating large quantities of berries when in season.
Reasons for a reintroduction: Pine martens were eradicated from much of the UK by Victorian gamekeepers. In Scotland they have recovered well, but in England and Wales the population was thought to be too small to recover. From 2015 to 2017, Vincent Wildlife Trust successfully moved 51 pine martens from Scotland to central Wales. It is now essential to build on the success of this project to ensure that a population of pine martens in Wales and west England becomes established. We can learn from previous pine marten reintroductions in Europe and North America. These show that to give the wider population the greatest chance of success, the more animals that are released, and at the more locations, the better.
Biological feasibility: We have assessed the suitability of the habitat in the Forest of Dean and lower Wye Valley for pine martens and studied whether a stable population of pine martens could live in this area. Our research shows that the region could support nearly 200 pine martens. Due to geographical barriers, these pine martens would predominantly expand to the west and north, towards where pine martens are already established in Wales.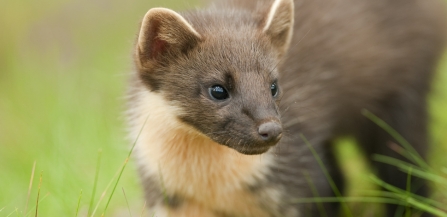 Pine martens may be at risk of being killed by foxes and road traffic. However, road density in the Forest of Dean and lower Wye Valley is comparable with areas of the Netherlands which have healthy pine marten populations.
Our feasibility study has also identified several benefits to people and to wildlife in the UK if pine martens are reintroduced to the Forest of Dean and lower Wye Valley:
Environmental impacts: Pine martens are known as "generalist predators" meaning they eat what is most common and available. They can have several positive effects. For instance, pine martens have been shown to control non-native grey squirrels, which are known to cause a range of problems: in central Ireland, the natural growth of the pine marten population has led to grey squirrels being eradicated from six counties. If grey squirrels are controlled, and the populations of other common animals are capped, rarer species can thrive. In this way pine martens provide an important balancing effect. We also assessed any risks pine martens may pose to rare and protected wildlife. The only high risk we identified was the potential disturbance of bat roosts within buildings by pine martens looking for den sites. Vincent Wildlife Trust are experts in both pine martens and horseshoe bats, the key species group in the Forest of Dean, and have previous experience mitigating against this type of disturbance.
Social and economic impacts: Pine martens are a joy to watch, and can engage people with nature. They may also bring more tourists to the region. Also, because the numbers of grey squirrels could be reduced, people who plant trees will benefit. While infrequent, predation of enclosed poultry can and does happen. A variety of measures can work in preventing livestock losses, which are often the same techniques used to prevent foxes. Previously, Vincent Wildlife Trust have produced leaflets which may provide useful information. The project team will be on hand to help monitor and prevent any impacts.
We are working closely with gamekeepers to gather their opinions about the project, and potential prevention options.
Community consultation: Community support was essential for the reintroduction to proceed. An on-street survey was thought to be the most robust methodology for surveying local opinion, and showed 71% in favour of the reintroduction, 3% against, and 26% undecided. This was further supported by an online opinion survey and feedback collected at community events, which both showed a broad backing for the project. We also had detailed discussions with representatives from a variety of groups. There was clear support for the principal of reintroducing a native species. Many suggested that their concerns could be addressed if the impact of pine martens is monitored in detail. We thoroughly support this approach, and the reintroduction project will have 5 years of detailed monitoring alongside it.
Take a look at the feasibility of reintroducing pine martens to the Forest of Dean and lower Wye Valley