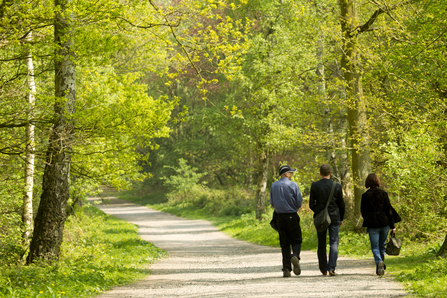 The Trust benefits from 4 projects as part of the Foresters Forest: Forest Explorers, Community Study Group, Conservation Grazing and Deans Marvellous Meadows.
Forest Explorers
Forest Explorers is a project run jointly by the Trust and the RSPB in the Forest of Dean, its aim is to provide fun, educational activities for families once a month covering a wide range of heritage subjects linked to the Foresters Forest programme.
Session subjects to date have ranged from migratory fish to free mining, Dippers, bats and butterflies, ancient runes and languages, forest boundary stones, iron smelting and reptiles. The sessions teach children and adults about the importance of the species, habitats, and heritage of the Forest, and help to engender a sense of wonder and respect for the natural world and the forest around them.
Sessions are run by a team of trained volunteers and project staff; take place at the weekends, and cost just £1.00 per child, booking is essential and can be done by e.mail at forestexplorersfod@gmail.com
Community (Wildlife) Study Group
The Community or Wildlife Study Group is made up of volunteers from all the different biodiversity projects which form the Foresters Forest. Local people are offered opportunities to learn more about the Forests wildlife and to gain the survey and monitoring skills required to assist in the longer term monitoring of habitats and species. An annual training programme of survey and monitoring opportunities is prepared, with sessions planned to suit as wide a range of people as possible. Training sessions may be held at weekends, evenings or during the day and they are located at different venues around the forest. No prior knowledge is needed and many people join as interested beginners. As well as gaining a wider understanding and appreciation of the wildlife found in the forest, volunteers also enjoy meeting other like minded people, and getting out to parts of the forest they haven't visited before.
The long term goal of this project is to form a self sustaining group of local volunteers with a range of skills and knowledge to assist in the ongoing survey and monitoring of the health of the forests species and habitats. This data helps to inform forest management and planning as well as to identify trends and changes.
Deans Marvellous Meadows
This project partners with the volunteer led Dean Meadows Group, and sets out to inspire and advise on the, often small, remnant wildflower meadows found around the periphery of the Forest of Dean. The project includes talks, walks and open meadows events throughout the year, enabling meadows owners and enthusiasts to visit each others meadows and share experiences and ideas, engendering a sense of community and support.
Meadows owners are able to join the Dean Meadows group and receive a survey and advice visit to their property, which aims to inform them of the species found growing there, and also make any suggestions regarding management which might be possible to enhance the diversity of the meadow.
A small Capital Works Grant Fund enables owners of such meadows to apply for up to £1000 towards one off capital works such as fencing, gates or water supply, which will enable them to better manage their meadows for wildlife benefit.
Find out more about the Dean Meadows Group by clicking here. 
Conservation Grazing
See our land management pages here.