GWT coronavirus update: during this difficult time, we know how important it is to get outdoors for fresh air, exercise and to immerse yourself in nature. Please visit with sensitivity and care, and adhere to current government guidelines around social distancing.
The cafe and toilets are currently open between 9am and 5pm. The mobility tramper is also available for hire - please see further information in the 'Visit' tab. Crickley Hill's opening hours are currently 6am to 9pm and visitors will need to pay to park. Remote payment options are available to use before or after your stay to minimise contact and queuing at the payment machines.
Help protect Crickley Hill's special wildlife by keeping to paths and leaving wildlife habitats, such as piles of logs and deadwood, intact. This will greatly help reduce disturbance of birds, small mammals and adders. 
When you visit, if using the car park and/or blue badge parking area, please be sure to buy a parking ticket to cover the full length of your stay.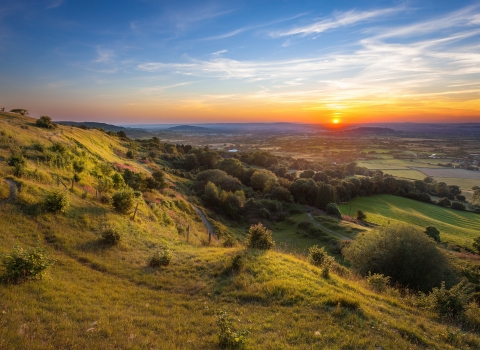 Crickley Hill Circular Walk
Follow the suggested trail to see the best of Crickley's wildlife, archaeology and views. Most of this suggested trail is accessible by all-terrain pushchairs, wheelchairs and the available-for-hire  tramper/mobility scooter. For more information on using the for-hire tramper service, please get in touch by emailing us at info@gloucestershirewildlifetrust.co.uk or by calling us on 01452 383333.
The map of the trail can be found below or in our Visitor Hub. But please do ask the café or reserve team for top tips or directions if needed.
Crickley Hill - Circular Walk leaflet
Crickley Hill - Paws on the Hill leaflet (info for dog walkers)
Visitor Hub

Open daily, during café opening hours, the Visitor Hub (part funded by Grundon Waste Management and the European Agricultural Fund for Rural Development) is the perfect starting point for exploring Crickley Hill.  

The large information panels provide an overview of Crickley Hill's wildlife and archaeology as well as an introduction to how we work together with the National Trust as custodians of this delicate, much-loved and well-used site. 

The Visitor Hub is also home to a large map, detailing the Crickley Hill walk,. 

The Visitor Hub can be found next to the café and close to the upper car park and blue badge parking area. The Hub has both ramp and stair access. 

Fancy hiring the Visitor Hub for a group event or meeting? Please contact the Gloucestershire Wildlife Trust team for details and availability: info@gloucetsershirewildlifetrust.co.uk.
Tramper Hire (all-terrain mobility scooter)

The tramper is now in hibernation until the spring as the paths have become wetter and slippery! 

Access to many of the footpaths and views of Crickley Hill is possible for visitors with limited mobility using our all-terrain mobility scooter, called the Tramper:  

The Tramper must be booked in advance to ensure availability of both Tramper and staff to prepare your experience; it is not possible to book on-site for the same day; 

The Tramper is available to book for a single 3-hour slot; from 9.30am to 12.30pm, or from 1pm to 4pm;  
Members of the Countryside Mobility Scheme can hire the Tramper for £5 per session;   
It is not possible for non-members to hire the Tramper at the moment;  
All Tramper users at Crickley Hill must be accompanied by an adult (18 years of age or older) to help with gates and for safety. 

Once enrolled with the Countryside Mobility Scheme, you can use Trampers at all other participating sites across the South West - To find out more about the South West Countryside Mobility Scheme, and where else Trampers are available for hire, call 01392 459222 or visit www.countrysidemobility.org. 

To book the Tramper for your 3 hour slot please email info@gloucestershirewildlifetrust.co.uk. 

Before your session you need to watch this video on the countryside mobility webpages: https://www.countrysidemobility.org/conditions 

You must also print and complete the downloadable form below and bring this completed copy with you when you arrive for your tramper session.
Wild Play 

Crickley Hill is a great place for an adventure, whatever your age: 

Look for insects and creepy crawlies on the woodland floor or in the grass areas; 
Listen out for birdsong and drumming woodpeckers; 
Why not take advantage of Crickley Hill's prominent location and try flying a kite? 

For extra inspiration, purchase your copy of the Gloucestershire Wildlife Trust wild play guide from the café. 
The Cotswolds Way

The Cotswold Way is a 102 mile (164Km) long National Trail running between the market town of Chipping Campden and the city of Bath. For most of its length it follows the Cotswold escarpment and, as such, passes through Crickley Hill.   

By following the Cotswold Way southwards from Crickley Hill and across the air balloon roundabout you will find Barrow Wake. Please be very careful crossing the A417, the road is very busy with fast moving cars and trucks. 

A stop at Barrow Wake is well worth adding to your Crickley Hill visit. The area is part of the same SSSI as and contains a similar flora to Crickley Hill. Barrow Wake is especially notable for its population of musk orchids and abundant devil's bit scabious and its good butterfly populations with abundant chalkhill blues in mid-summer as well as the green hairstreak, marsh fritillary and Duke of Burgundy fritillary. Barrow Wake is also another fantastic location to enjoy views across the Severn Vale.  

For more information about the Cotswolds Way please visit the National Trail website.