GWT coronavirus update: during this difficult time, we know how important it is to get outdoors for fresh air, exercise and to immerse yourself in nature.
Please help us keep our outdoor spaces open to everyone for as long as possible by:
Maintaining social distancing – please avoid being within two metres of other visitors and avoid gathering in groups at play equipment, view points, and seating areas.
The cafe at Greystones is now open! We are serving tasty treats and a cracking cuppa between 10am and 4pm Thursday through Sunday. Please do pop in and say hello! We are serving take-away style from the hatch to maintain our staff and customer safety; there is outside seating available, or you are welcome to take your food and drinks for a picnic but please leave no trace! The toilets are also open whenever the cafe is open.
Greystones is one of the most important nature reserves in the country and provides a great day out for families. We carefully manage the land to ensure that wildflowers thrive and we are proud that Greystones is nationally recognised because of this. Our hay meadows support a stunning range of wildlife and wildflowers in the spring and summer.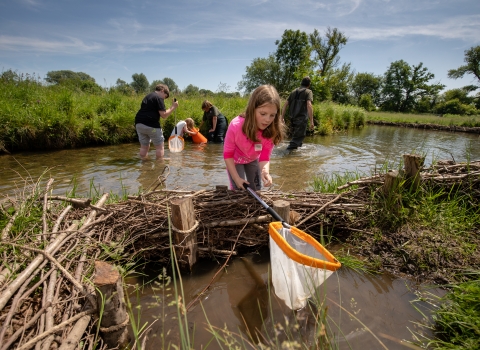 Events
For a full list of events and courses, and to make your bookings, please visit our events page.
Plan your visit
Nature Tots

Nature Tots offers pre-school children one and a half hours of guided outdoor time; Gloucestershire Wildlife Trust's experienced team will support you and your little one(s) in enjoying nature in all seasons and participating in creative wildlife-inspired activities. 
Organising an event?

Events space to hire

Learning Room (available between 09:30 and 16:30) – maximum 30 people

1 hour - £20

½ day - £50

Full day - £100

Evening hire (16:30 – 21:30) - £30 per hour

Iron age replica round house (available between 09:30 and 16:30) – maximum 35 people

1 hour - £20  – no fire

½ day - £150  – including wood for fire

Full day - £250  – including wood for fire

Evening hire (16:30 – 21:30) - £50 per hour  – including wood for fire

Note: Gloucestershire Wildlife Trust will provide a team member to help light and monitor your fire. If you would like fire-lighting as part of your experience, please let us know – this activity has a £10.00 additional charge per booking).

Exclusive Hire (inc. café, event space, and roundhouse) – maximum 60 people 

½ day - £225

Full day - £400

Evening hire (16:30 – 21:30) - £350

Please contact us for information about catering options or to book a space by emailing info@gloucestershirewildlifetrust.co.uk.
Volunteer Opportunities at Crickley Hill

We have several volunteering roles at Greystones. From reserve volunteers, garden volunteers, to events, education and walking guides volunteers. If you are interested please find our volunteering application pack to download and fill out here