GWT coronavirus update: during this difficult time, we know how important it is to get outdoors for fresh air, exercise and to immerse yourself in nature. 
Please visit with sensitivity and care, and adhere to current government guidelines around social distancing. Wildlife on nature reserves has taken advantage of a quieter time in the countryside to go about their business. In some cases this is happening in unusual places; close to visitor pathways and entrances, so we ask visitors to bear this in mind when visiting GWT sites.
The cafe, visitor hub and toilets are now open between 9am-5pm. The cafe is serving ice creams, cakes and hot pastries throughout the day, as well as our new lunch menu between 11am-3pm. We are serving take-away style through the cafe hatch to maintain staff and customer safety. 
Crickley Hill's opening hours are 9:00 - 21:00 and visitors will still need to pay to park. Remember you can via phone, website or RinGo app before or after your stay to minimise queuing and contact at the payment machines. Full details are advertised in the car parks.
Due to the coronavirus pandemic all events at Crickley Hill have been cancelled for the foreseeable future. 
What's on at Crickley Hill?
Crickley Hill is home to some great events all year round. Its a wonderful place to come and enjoy nature with others.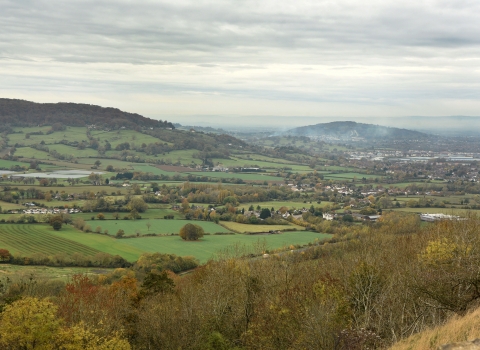 Events
For a full list of events and courses, and to make your bookings, please visit our events page.
Plan your visit
Nature Tots

Crickley Hill hosts Nature Tots sessions on the first Thursday of each month, 10am to 11.30am.  Nature Tots offers pre-school children one and a half hours of guided outdoor time; Gloucestershire Wildlife Trust's experienced team will support you and your little one(s) in enjoying nature in all seasons and participating in creative wildlife-inspired activities. 
Organising an event?

Would you like to hire an area at Crickley Hill to run your own private event? We can help! We can offer indoor and outdoor spaces, guided walks, talks, nature-based activities, and a variety of catering options. 

As some example of previous events, we have hosted AGMs, corporate team away-days, enabled local crafts people to run exciting workshops (e.g. willow weaving) and been a fuelling station for sponsored walks, orienteering events and cross-country runs. 

Even if you do not wish to hire an area or use any facilities, you must have permission from Gloucestershire Wildlife Trust and the National Trust to run any event at Crickley Hill which: 

requires way-marking, setting up checkpoints, bringing vehicles or equipment on to the site 

is carried out for commercial purposes. 

You do not need prior consent for groups of people simply meeting to walk or run at Crickley Hill However, we do strongly advise you to contact either Gloucestershire Wildlife Trust or the National Trust prior to your event. We can support you with: 

advise on dates and time (to avoid potential clashes with other events); 

devising the most appropriate route(s); 

General site information and etiquette. 

We also suggest that groups of 9+ who wish to use the café let us know in advance. 

Please send your enquiry (including event details, number of participants, dates, times and requirements) to: info@gloucestershirewildlifetrust.co.uk.  
Volunteer Opportunities at Crickley Hill

We are looking for enthusiastic and passionate, customer service individuals to help provide a warm welcome and hub of information for visitors to Crickley Hill seven days a week (a variety of shifts are available Monday to Sunday, 10am and 4pm). 

For more details, please visit the dedicated volunteer web pages.