Crickley Hill car park, toilets, visitor hub and cafe are all open. We have increased our cleaning and implemented a queuing system for everyone's safety. The tramper hire service has also resumed. 
Gloucestershire Wildlife Trust cafes offer individuals, families, and friends (including your four-legged ones) a warm welcome and a relaxed atmosphere. 
The efficient and friendly café team freshly prepare breakfast, brunch, lunch, and treats to order; celebrating the seasonal best from our local suppliers. The team serve a great cuppa! 
Crickley Hill Café is no exception. Located right next to the pay-to-stay car park and toilet facilities, with a cosy indoor space and large outdoor seating area (reserved for café patrons), the café is a great meeting place.  
Fuel up for your blustery hilltop walk. Relax following your woodland adventures. Or, simply pop in to grab a takeaway coffee or ice-cream to enjoy while you admire the stunning views. Enjoy every mouthful knowing that profits from café and retail sales go directly to help protect Gloucestershire's wildlife and wild places.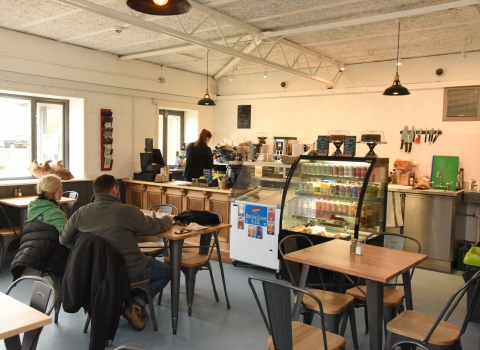 Opening Times
The Crickley Cafe is currently open every day between 9am and 5pm, with a new look menu for summer.
The café serves the full menu - including sandwiches, salads and our new picnic hampers - every day between 11am and 3pm. 
Snacks, cakes, ice creams and drinks are available all day. Please note that in adverse weather, the café hours may alter – please check social media for updates. 
Bookings

We are unable to reserve café tables for individuals or groups. 

It is sometimes possible to reserve the designated picnic area for larger groups and for school groups. This area, which contains several wooden picnic benches, is open to the elements but is located close to both the Visitor Hub and café.   

We are happy to cater for groups – to ensure we can accommodate you using our daily menu please do let us know you are coming. We suggest that groups of 9+ complete and return a booking form or email info@gloucestershirewildlifetrust.co.uk.  

If you would like to guarantee a table, why not consider making a booking (for groups 9+) at Greystones in Bourton-on-the-Water where our group tables overlook a dedicated wildlife garden. 
Café Menus 

The menus offer vegetarian, vegan, and gluten free choices. The café team are happy to advise you if you have any allergies. 

We also cater for dogs (with homemade dog treats and Marshfield 'Scoops' ice cream for dogs). 
Café Suppliers 

We take extra care at Gloucestershire Wildlife Trust cafes to use local suppliers and producers who adopt wildlife friendly strategies as well as supply delicious produce!
Dogs at Crickley Hill Café 

Well behaved dogs are welcome at all our sites (please note some restrictions apply between March and July each year in line with the Countryside and Rights of Way Act 2000).  

Dogs (other than registered assistance dogs) are not permitted inside the café, but those on leads are welcome in the outside seating area.  There is an external, undercover, all-weather seating area and an external service hatch - the café team are more than happy to bring your order out to your table.   

We offer pooch pitches (secure lead points, with water bowls, where you can 'park' your pooch while you use the facilities) and we sell handmade dog treats and Marshfield 'Scoops' ice cream for dogs. 
Picnics & BBQs

There is a designated picnic area available next to the Visitor Hub and close to the café seating area. 

There are also picnic benches nestled along some of the woodland trails, including next to the spectacular fallen ancient oak tree, and numerous spots to spread out a blanket and enjoy the view.  

To prevent damage to wildlife and wildlife habitats, barbeques (and any form of fire-making) are strictly prohibited at Crickley Hill.