Foresters Forest
Foresters Forest is a National Lottery Heritage Fund Landscape Partnership programme, formed from an association of partner organisations and local community groups within the Forest of Dean, the Project includes 36 individual but linked projects, which aim to raise awareness and participation in the built, natural and cultural heritage that makes the Forest special. 
To find out more about Gloucestershire Wildlife Trust's involvement in Foresters Forest click here. 
To find out more about the Foresters Forest project click here.
Milton Avenue Green Space, in Podsmead
The Trust has been working with the Podsmead (Gloucester) community since 2016 at the Milton Avenue Green Space. This is a great space for wildlife with a balancing pond, small woodland and wet grassland. Surrounded by housing, but full of wildlife, this green space had become overgrown and unloved. Working with the community the Trust has improved habitats, created interpretation features and increased usage by local people. This work continues and is in partnership with Podsmead Big Local. 
Tuffley Rose Garden
Since the start of 2020 we have been working with local community volunteers on this small urban green space, on the corner of Stroud Road and Tuffley Avenue in Gloucester. The garden was planted with roses as a memorial garden, and has an accessible footpath running around the outside of it. It is a popular site for locals to exercise, and working with residents GWT has been working to make the garden a more wildlife friendly space that can be enjoyed by people and nature. 
Fruit trees have been planted, insect and bird homes installed, flower beds seeded with wildflowers and native bulbs. Also existing vegetation kept under control. Local volunteers will continue to maintain this space, with support from Gloucester City Council.
Small sites such as this can still be incredibly important for our wildlife to thrive. They can form important corridors through urban spaces, helping wildlife to move throughout our towns and cities to more wildlife rich habitats. Gloucester City is fortunate to have two nature reserves within it's boundary (Alney Island and Robinswood Hill). Sites such as the Tuffley Rose garden can help connect these nature reserves, allowing insects, and birds to safely move across the city.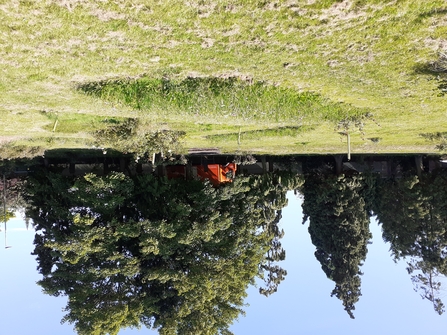 Carers in Nature
From March 2021 we will be running a programme of horticulture and nature activities for carers in Gloucestershire. This will give carer some much needed respite from their caring work. They will have the opportunity to attend sessions at Robinswood Hill Country Park in Gloucester, and learn about wildlife gardening, go on nature walks, and create features for their own gardens.
Supported by the Gloucestershire Clinical Commissioning Group, carers will be given support to attend sessions where needed. Research carried out by Gloucestershire County Council in 2020 showed that carers are most looking forward to getting outdoors in nature and gardening following the pandemic. Carers in Nature will allow carers to do this in a safe, and guided environment. It will also demonstrate the benefits nature and green spaces can have on improving our health and wellbeing.
Return to the Hill
Since 2013 the Trust has been working, in partnership with Gloucester City Council, at Robinswood Hill Country Park in Gloucester to improve engagement by local communities with this green space. We have run events, education sessions and volunteer days.
'Return to the Hill' is a two-year project which began in January 2021 supported by the 'National Lottery Heritage Fund', Gloucester City Council and Gloucestershire Gateway Trust. Working with local partners such as Age UK, Star College, and the World Café, this project aims to make the reserve a place for everyone in the local community.
There are three main arms to the project, all with the aim of making nature more accessible to all:
Memories of Robinswood Hill
Collecting stories, images and memories of the site from local people in the community. This will then be displayed as an exhibition in our new building. If you have a story or photo to share, please contact jenny.griffiths@gloucestershirewildlifetrust.co.uk
Improving Accessibility of the Hill
We will have access to a tramper mobility scooter for hire, and will be working with Star College to look at wheelchair friendly routes. We are going to develop some 'all weather' explorer backpacks and offer welly hire so that the site is easy to enjoy year-round.
Increasing diversity
We are developing some 'wildlife champion' volunteer roles to help us think about how we can reach out to members of our community who don't always know about us or think of visiting. This will include some events celebrating different local cultures, and some 'takeovers' of our café on site with delicious themed food offers.
Events
We are running a series of events through the Spring and Summer this year, beginning with COVID-friendly self-directed activities. Keep an eye on our events page for the programme.
Nature Tots
We will be launching a monthly 'Nature Tots' group running outdoor activities for preschoolers to enjoy. This is building on the success of our other groups at Crickley Hill, Greystones and in the Forest of Dean.
Volunteering
If you are interested in helping us with our events or any other aspect of the project please contact volunteering@gloucestershirewildlifetrust.co.uk and take a look at our volunteering pages for more details on volunteering.