Background information 
The 2019 State of Nature Report reiterated that declines in biodiversity are continuing and alarmingly, may in some cases be accelerating. Extinction rates are far above baseline rates and if long-term declines in bio abundance are not addressed there will be mass extinctions that could undermine ecosystem functioning. There is increasing consensus that we are in an ecological emergency and significant change is needed in the next ten years to address this. Ten years ago, the landmark 'Lawton Report' called for UK conservation to shift its focus to increasing the size of wildlife sites (bigger), improving the quality of the habitat they contain (better) and work to connect them across landscapes (more joined up). In 2018, the Government's 25 Year Environment Plan committed to delivering 'Nature Recovery Networks' (NRN) and GWT has led the production of Gloucestershire's. 
Establishing and managing nature reserves was one of the principle foundations of the early conservation movement and was one of the original purposes of Gloucestershire Wildlife Trust. Nature reserves continue to play a pivotal role in the Trust's work today. However, as the Trust approaches its 60th anniversary it must reflect on the significant advances in conservation biology that have taken place over that period. Whilst there are still many unanswered questions, wildlife losses have continued, and most nature reserves are too small or too isolated to ensure a long-term future for the wildlife they contain.  
The Trust's approach to land management must evolve to reflect up-to-date scientific knowledge if it is to stand a chance of halting and reversing biodiversity declines in Gloucestershire. Therefore, in 2019 the Trust began a review of its owned and managed estate to ascertain its ability to deliver an ecologically coherent and resilient network of wildlife rich sites, enabling nature to not only recover but also to adapt to climate change.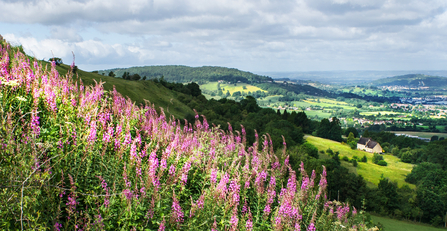 General statement 
To address the ecological emergency, Gloucestershire Wildlife Trust (GWT) is set to dramatically increase the amount of land it manages for wildlife over the next five years in a new, landscape-scale approach to drive nature's recovery in the county.
The Trust spends over £800,000 per year managing land for wildlife, but this currently benefits just 0.4% of land in the county. To ensure that the organisation can have the biggest possible impact and target work where it's needed most, GWT will be focusing on a smaller number of larger Priority Landscape Areas, based around the organisation's biggest and best nature reserves. This move will significantly increase the ability of GWT's estate to deliver the 'Bigger, better and more joined up' approach, highlighted as vital to nature's recovery by the Lawton report. The total area covered by these Priority Landscape Areas is a vast 17,467 ha and this new approach will enable GWT to increase the amount of land managed for wildlife through its work from 1,078 ha to more than 2,000 ha within five years. 
It is crucial that the Trust's estate reflects the best use of the available resources to deliver bigger, better and more joined up places for wildlife. These changes provide huge opportunities to restore whole ecosystems, rather than just caring for individual fragments, as well as enabling the Trust to deliver more work in partnership with farmers and pool resources with other conservation organisations. Nature reserves will remain an important way by which GWT fulfils its mission to connect and improve the county's wildlife and wild places, but nature reserves alone cannot save Gloucestershire's wildlife, which must be the ultimate goal.