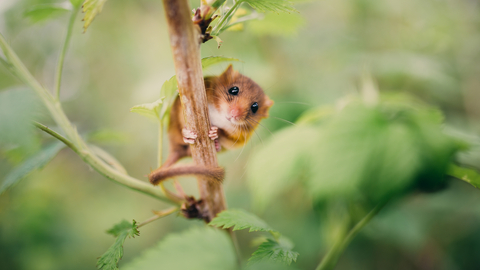 Great Nut Hunt
Location:
Lower Woods,
near Wickwar,
Wotton-under-Edge,
Gloucestershire,
GL9 1BY
Come and help GWT collect vital data on dormice during our sixth annual Great Nut Hunt at Lower Woods.
About the event
Help us search for signs of dormice by collecting nuts and helping us identify who nibbled on them. This activity will help us understand whereabouts in the woods the dormice live and if we're helping the dormice population to survive in Lower Woods. 
Requiring no previous experience, we will teach you everything you need to know about collecting hazelnuts.
After the hazelnuts have been collected, we will then sort and identify which species ate your hazelnuts back at The Lodge car park.
We will demonstrate how your data will be used, and you will have the opportunity to learn about dormice and what woodland management they need from our expert ecologist.
Please note the survey requires being able to bend, stoop or crouch on the ground for 20 minutes to find and collect nuts.
Lower Woods is muddy and the ground will be damp. Please wear appropriate boots and outdoor clothing.
There are toilets at Lower Woods and refreshments will be provided.
Pre-booking is not essential, but will help enable us to bring enough cake!
There are four separate sessions available:
20th October, 10am - 12:30pm
20th October 1pm - 3:30pm
21st October 10am - 12:30pm
21st October 1pm - 3:30pm
To read our Events Cancellation Policy, please click here.
Know before you go
Mobility
People with limited mobility please contact organiser in advance
Wheelchair access
Wheelchair users please contact organiser in advance