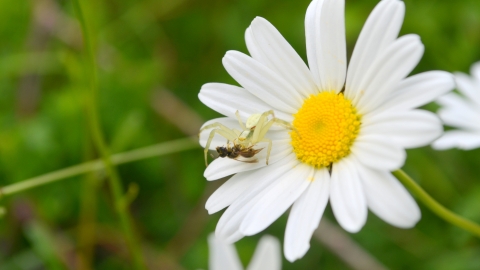 Course: Practical Ecology
Ecology is all about the fascinating relationships between plants and animals and their environment.

Predators and prey; photosynthesisers, pollinators and parasites – all their evolution is influenced by the resources and challenges found where they live.

Join David Scott-Langley of Gloucestershire Naturalists' Society for a friendly introduction to this fascinating and vast subject.
About the event
Starting in our large teaching yurt, experienced naturalist and trainer David will be your guide through some of the concepts needed to understand the complexity of the natural world. This is followed by practical surveying sessions in our vast and ancient Lower Woods Nature Reserve. This is one of the most biodiverse places in South West England and has meadow, river, orchard and ancient woodland habitats for you to explore in more detail.
Summary
Location: Lower Woods nature reserve, nr Wickwar, S. Glos
Tutor: David Scott-Langley
Date : Saturday 13th April 2019
Times: 09:30 – 16.00
Level: Open to All
Price: £49 per person, or £53.10 per person plus guide
Course expectations
By the end of the course you will have covered key aspects of biological recording; habitat characteristics; basic invertebrate survey techniques; use of evidence, guides and keys to identify your finds; how to record and share your sightings and how to get involved in wildlife recording locally.
About the tutor
David Scott-Langley is an expert entomologist, so expect plenty of fascinating invertebrate knowledge. Growing up in the heart of the Somerset countryside his father sparked his interest in butterflies and birds, and he has since broadened his interest to all natural history, but especially the non-charismatic invertebrates of Gloucestershire and the Shetlands, promoting them to all who will listen.
Programme
09.15 : Registration and refreshments at Lower Woods Yurt
09.30 : Welcome and introductions
09.45 : Indoor session: Introduction to Practical Ecology
11.00 : Refreshments (provided)
11.15 : Introduction to Ecology Field Work.
12.30 : Lunch (note: bring packed lunch.)
13.15 : Practicing Field Identification
14.30 : Refreshments (provided)
14.45 : Further tools and techniques
15.30 : Discussion and review of the day
16.00 : Course ends
All timings are approximate. This is an outline programme and may change according to the weather, group requirements or wildlife factors.
What we provide
All equipment and hand lenses
Light refreshments
Course pack
Relevant guide books
Certificate of Attendance
What to bring
Essential:
Weather appropriate outdoor clothing (we advise clothing to cover arms, legs and feet).
Appropriate outdoor footwear with good grip.
A packed lunch and water.
Recommended:
Notebook and pencil
Camera
Field guides and hand lenses if you have any.
Useful guides
Hopkin (2003) FSC Fold-out Chart – Woodlouse Name Trail
Meeting point/Location
Lower Woods, Inglestone Common, Badminton, GL9 1BY
Parking and transport
There is free parking on site, but the access track and car park is not owned by GWT and is in poor condition. We will walk into Lower Woods directly from the Lower Woods Yurt.
Accessibility and health
If you have relevant medical or access requirements please let us know when booking.
Lower Woods Yurt access is across the working woodyard and has small steps up. There is a disabled toilet nearby. Field tuition is approximately 4 hours on often rough, muddy and steep terrain.
Please contact course organiser Ellen Winter for more details - we are happy to work with you to facilitate attendance wherever possible.
About the field site
Lower Woods is one of the largest ancient woodlands in the south-west of England and covers three square kilometres. The reserve has 23 woods and coppices whose boundaries have remained unchanged for several centuries. The rich woodland flora includes carpets of bluebells in spring, with early purple and greater butterfly orchids and herb Paris.
Further information
www.gloucestershirewildlifetrust.co.uk/nature-reserves/lower-woods
To read our Events Cancellation Policy, please click here.
Booking
Price
£49 per person or £53.10 per person plus guide.