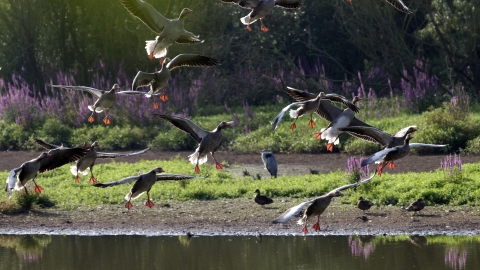 2019 Volunteer Conference
Location:
Apperley Village Hall,
Sawpit Lane, Apperley, Gloucestershire
GL19 4DP. 
Join us at our annual Volunteer Conference and meet fellow volunteers. Catch up with Trust news and have a tour of Coombe Hill nature reserves
About the event
This years Volunteer Conference will be taking place in the Severn Hams area starting in the the morning at Apperley Village Hall for presentations and lunch. This will be followed by an afternoon guided tour around our Coombe Hill nature reserve. Coombe Hill is a very special site for wetland birds, particularly waders and migrating waterfowl. In spring and summer bird species seen and heard can include: cuckoo, reed warbler, sedge warbler, white throat, lapwing, redshank and curlew. Also watch out for birds of prey like peregrines or sparrowhawks. One of the best sites in Gloucestershire, Coombe Hill boasts 17 species of dragonflies and damselflies, including the hairy dragonfly, scarce chaser and emperor dragonfly.  
The Conference is being held on Sunday the 28th April at 10:30am with refreshments available from 10:15am. at Apperley Village Hall, Sawpit Lane, Apperley, GL19 4DP. The morning will see a variety of presentations from Trust staff to update you on our work in 2018 and our plans for 2019. This will include:
An overview of GWT work over the past 12 months
Nicky Simpson; Urban Wildlife Manager, Hedgehog Way project, building a future for urban wildlife 
Gareth Parry; Director of Conservation, From Conservation to Restoration: The role of a 21st century Wildlife Trust.
Del Jones; Senior Reserve Manager West, News from our Western reserves 
We will also be serving lunch including Simon Weaver's ever popular Organic Brie, along with other savoury nibbles, tea, coffee and cake.