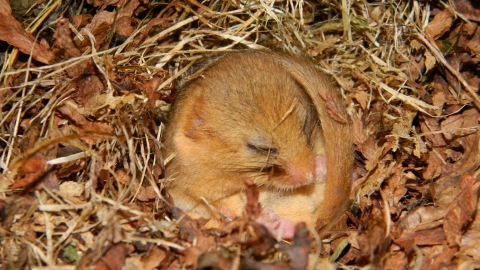 Course: Dormouse Ecology
Location:
Tidenham Chase,
Forest of Dean
Gloucestershire
NP16 7JR (nearest postcode)
We're sorry to say the decision has been made to cancel this event.
About the event
Principal Ecologist and Lecturer in mammal behaviour, regular dormouse monitor Dr Elizabeth Pimley uses her expert knowledge to teach those looking to gain their own dormouse licence.
The event will cover the fundamentals of dormouse ecology and conservation, including a broad range of skills that are needed to become a licensed dormouse handler.
The first part of the day will be an introduction and presentation on the ecology and conservation of dormice. This will also include identifying nuts opened by dormice and other small mammals. In the afternoon we will visit GWT's Poors Allotment Nature Reserve to gain experience in the practical side of dormouse monitoring.
Summary
Location: Tidenham Chase Old School Village Hall and Poor's Allotment Nature Reserve
Tutor: Elizabeth Pimley
Date: Thursday 17th October 2019
Time: 9:30 - 16:00
Level: professionals and enthusiasts.
Refreshments included
Price: £125
Course expectations
Over the day the course will cover:
British dormouse classification and species identification
Hazel dormouse ecology
Protected species legislation
Dormouse habitat management and mitigation theory
Survey licensing (Natural England)
Survey calendar
Surveying techniques, measurements and data collection
Handling and animal welfare
Practical surveying using dormouse nest boxes

Design and construction
Optimal density, positioning and difficulties in practice
Nest box checking, handling and dormouse data collection
Equipment cleaning and sterilisation
This course contributes to the knowledge, skills and evidence needed to apply for a protected species license, but to obtain a license, attendees will need to train for at least a survey season and obtain the required two handling experience references.
About the Tutor
Dr Elizabeth Pimley works in both academic and consultancy sectors, focussing on mammalian ecology. As well as lecturing in mammal ecology at the University of Gloucestershire, Elizabeth manages the Gloucestershire Wildlife Trust Consultancy's Ecology Team.
Specialising in devising ecological mitigation schemes for protected UK species, biodiversity enhancement, and ecological design strategies, Elizabeth holds Natural England licences for dormice and other protected species.
Programme
09.15 : Registration and refreshments
09.30 : Welcome and introductions
09.45 : Indoors: Hazel dormouse Ecology and Legislation
11.15 : Indoors: Survey and Monitoring
12:30 : Lunch (note: bring packed lunch. Hot drinks provided)
13:30 : Outdoors: Practical dormouse survey and monitoring
15.30 : Discussion and review of the day
16.00 : Course ends
All timings are approximate. This is an outline programme and may change according to the weather, requirements of the group or wildlife factors.
What we provide
Light refreshments
All equipment needed
Course pack
Relevant guide books
Certificate of Attendance
Reference in support of NE license application on successful completion
What to Bring
Essential:
Weather appropriate outdoor clothing (we advise clothing to cover arms, legs and feet).
Appropriate outdoor footwear with good grip.
A packed lunch and water.
Recommended:
Notebook and pencil
Camera
Your own guide book if you have one
Useful Guides
Bullion (2001) FSC Fold-out Chart – Mammal Tracks and Signs
Meeting point/Location
Tidenham Chase Village Hall, Rosemary Lane, Tidenham Chase, Forest of Dean, Glos NP16 7LX
Parking and Transport
Both sites have limited free parking. There is a short drive required between sites so car sharing will be arranged on the day.
Accessibility and Health
If you have relevant medical or access requirements please let us know when booking.
Tidenham Chase Village Hall has some disabled access, easy parking and toilet.
Field visit approximately 3 hours on rough, muddy, wooded terrain, with gates and stiles.
Please contact course organiser Ellen Winter for more details - we are happy to work with you to facilitate attendance wherever possible.
About the Field Site
Slow worms warming themselves up under rocks, lizards basking on sunny gorse, woodcocks performing their roding display flight at dusk, pairs of breeding stonechats and evidence of hazelnuts chewed by dormice – the sites are full of possibility and discovery for wildlife enthusiasts, and peaceful beautiful open landscapes that everyone can appreciate. https://www.gloucestershirewildlifetrust.co.uk/nature-reserves/park-and…
To read our Events Cancellation Policy, please click here.