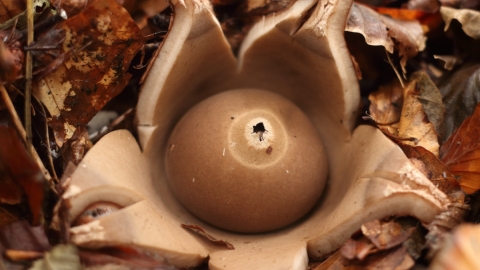 Course: Woodland Fungi
Location:
near Wotton-under-Edge,
(directions given on booking)
Do you know a deathcap from an earthstar? Experienced tutor Dr Lee Heyward of Cotswold Fungus Group will introduce you to the fascinating world of fungi.

Friendly and informative, the course covers fungal lifestyles, identifying and recording this bizarre kingdom.
About the event
Enter a new realm of bizarre shapes, colours and smells - how about crab, coconut or aniseed? Learn how fungi are essential to all life on earth, and their secret relationships with plants. After an illustrated introduction to fungal basics you will get the chance to investigate strange and beautiful woodland fungi at a hidden gem nature reserve.
As well as practical experience of identifying and recording the species you find, there will be time for photographing these wonderful organisms.
"Subject was riveting" "Such a lot to take in – has inspired me to go further" from 2018
Summary
Location: near Wotton-under-Edge (directions given on booking)
Tutor: Lee Heyward
Date : Friday 18th October 2019
Times: 09:30 – 16.00
In association with www.cotswoldfungusgroup.com
Level: Open to All
Price: £49
Course expectations
By the end of the course you will have covered key aspects of fungi identification and ecology; use of characteristics, guides and keys to identify your finds; how to record and share your sightings and how to get involved in fungi forays locally. Please note that while we may find edible fungi, accurately identifying fungi to eat is outside the scope of this course.
About the Tutor
Dr Lee Heyward is a Foray Leader with Cotswold Fungus Group, the UK's largest local fungus group. After 15 years of study Lee is still awestruck by the importance of fungi to all life on earth, their beauty, their ingenious methods of reproduction, and their sheer kookiness.
Programme
09.15 : Registration and refreshments
09.30 : Welcome and introductions
09.45 : Indoor session: Introduction to Fungi
11.15 : Beginning Field Identification.
12.30 : Lunch (note: bring packed lunch.)
13.15 : Practicing Field Identification – into the wood
14.45 : Further into the woods
15.30 : Discussion and review of the day
16.00 : Course ends
All timings are approximate. This is an outline programme and may change according to the weather, group requirements or wildlife factors.
What we provide
All equipment and hand lenses
Light refreshments
Course pack
Relevant guide books
Certificate of Attendance
What to Bring
Essential:
Weather appropriate outdoor clothing (we advise clothing to cover arms, legs and feet).
Appropriate outdoor footwear with good grip.
A packed lunch and water.
Recommended:
Notebook and pencil
Camera with macro setting.
Field guides and hand lenses if you have any.
Useful Guides
Holden & Hamper (2003) FSC Fold-out Chart - Fungi Identification Chart
Marcel Bon (1987) Mushrooms and Toadstools of Britain and North-West Europe
Denys Ovenden, Chris Shields and Stefan Buczacki (2013) Collins Fungi Guide
Meeting point/Location
Full details of this beautiful location will be sent on booking
Accessibility and Health
If you have relevant medical or access requirements please let us know when booking.
Field tuition is approximately 4 hours on often rough, muddy and steep terrain.
Please contact course organiser Ellen Winter for more details - we are happy to work with you to facilitate attendance wherever possible.
Further Information
Cotswold Fungus Group are a thriving, well supported group of fungi enthusiasts covering East Gloucestershire and the Northern end of Wiltshire. They have one of the largest memberships of any fungi group in the UK.
To read our Events Cancellation Policy, please click here.