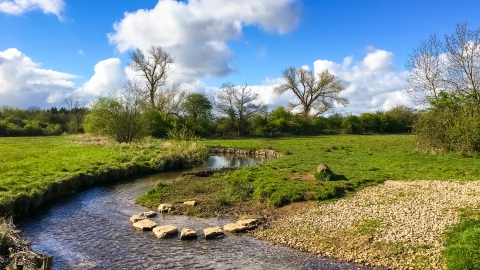 Wildlife & History Walk at Greystones
Location:
Greystones,
Greystones Lane,
Bourton-on-the-Water,
Gloucestershire,
GL54 2EN
23 October 2019

Explore our fascinating Greystones nature reserve and be guided on a tour of 6,000 years of human history and wildlife...
About the event
Greystones has recently been launched as a unique visitor centre and nature reserve. Visitors have the opportunity to join a guided walk to explore this fascinating place, situated on land with a history stretching back 6,000 years.
Greystones is nationally recognised for its wild flower meadows and for its important historic remains. It boasts many species, including water voles, barn owls and otters which were at risk of extinction but have made a spectacular comeback because of our conservation work. 
You'll visit the replica Iron Age roundhouse, find out about Greystones' role as one of Europe's earliest known towns and its Neolithic beginnings, and see how we manage the land for wildlife.
After the guided walk, take time to enjoy a snack, including our range of sweet and savoury afternoon teas, in the new café.
Our guided walks are led by trained volunteers.
Tickets are available online below or by calling 01452 383333 (lines open 9am-5pm Monday to Friday).
Car parking:  To visit Greystones, visitors can park in one of Bourton's many pay & display car parks – the nearest option is just 300 yards from Greystones.
Disabled Car Parking: If you wish to attend this event and require a disabled car parking space please contact Gloucestershire Wildlife Trust head office on 01452 383 333 or email: info@gloucestershirewildlifetrust.co.uk to pre-book your disabled parking space. There are 3 spaces for Blue Badge holders at Greystones.
To read our Events Cancellation Policy, please click here.