More than 1,300 species have been recorded at Crickley Hill, from rare birds, butterflies and wild flowers to reptiles and toadstools.
We are proud that Crickley Hill has gained national recognition for its wildlife, and has the status as a Site of Special Scientific Interest (SSSI) for its rich diversity of wild flowers.
Ensuring that wildlife thrives here takes careful management and it costs Gloucestershire Wildlife Trust £5,000 each week to run Crickley Hill.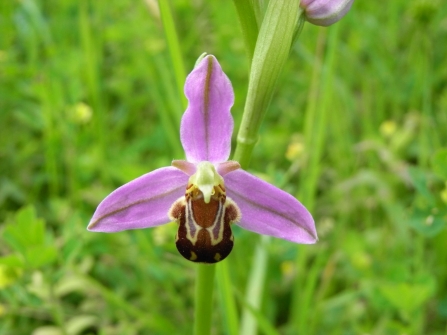 Wild flowers
Of note are yellow worts, carline thistles (an unusual plant that sparkles silver and gold in the sunshine), autumn gentians, clustered bellflowers, viper's-bugloss (this looks beautiful with its dark blue flowers but beware of its spiky, hairy stems). 
The orchids here include musk orchids and bee orchids (pictured above), as well as common spotted orchids (the most common of all UK orchids, with flowers ranging from white and pale pink through to purple, and the green leaves covered in purplish spots).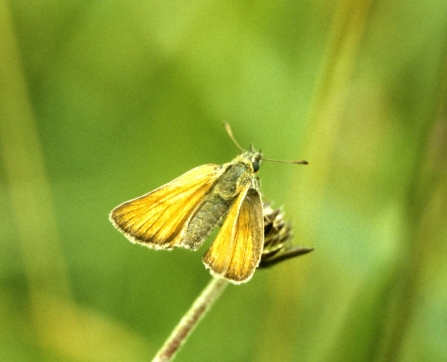 Butterflies
There are over 30 different species of butterflies recorded at Crickley Hill. In the spring and summer, look out for large skipper butterflies (pictured right), and the beautiful chalk hill blue butterfly which feeds on knapweed and scabious and whose caterpillars need red ants to survive.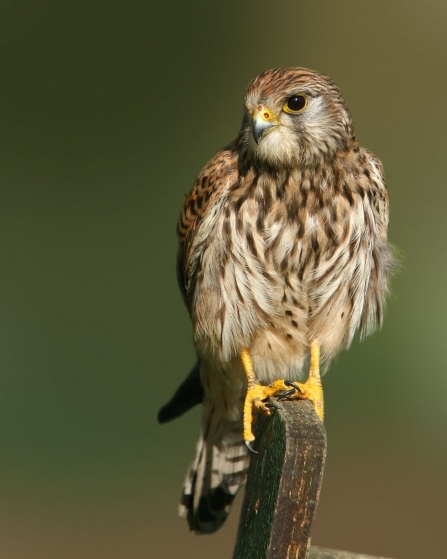 Birds
Among the birds seen and heard here are red kites, buzzards, kestrels, cuckoos, chiffchaffs, green woodpeckers and great spotted woodpeckers (listen as they drum at the trees to find insects and larvae).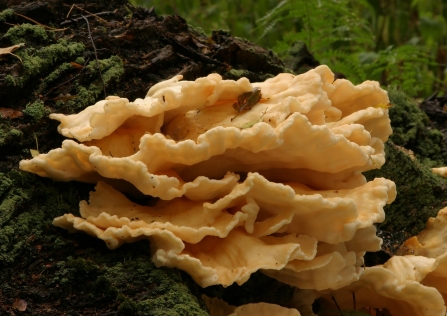 Vital woodland
There are huge oak trees, some hundreds of years old, the remains of an ancient forest recorded in the Domesday Book, nearly a thousand years ago. In the woods in the autumn you may see chicken of the woods (pictured right) – this isn't a rare bird, but a bright yellow common fungus.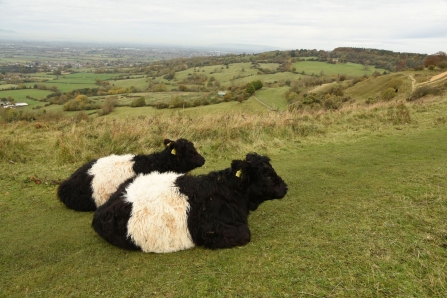 Some help from the cattle
Black and white Belted Galloway cattle (pictured left) graze the meadows. They help to keep the land in perfect condition for the birds and butterflies, flowers and fungi, and the insects and reptiles at Crickley Hill, in a process known as conservation grazing.