About the project
The Countryside Stewardship (CS) facilitation fund supports people and organisations that bring farmers, foresters and other land managers together to improve the local natural environment at a landscape scale. This landscape scale approach can cover land under existing agri-environment and forestry/ woodland agreements, common land and land not currently covered by a scheme.
The River Leadon rises in Herefordshire and flows for approximately 32 miles before joining the River Severn at Gloucester. The catchment is predominantly rural with mixed farming systems including livestock, arable and horticulture. The Leadon and its tributaries flow over a number of aquifers that are subject to potable and commercial abstraction. In addition, abstraction on the river for agricultural purposes is practiced. Due to these abstractions, some of the watercourses are under pressure from low flows.
Gloucestershire Wildlife Trust were successful in applying during the first round of facilitation funding, and the River Leadon facilitation fund was started in 2015 with 8 members. We have since grown the group to 17 members, managing over 1500ha of land. We are a friendly and open group and new members are always welcome. Please get in touch with our catchment officer jenny.parsons@gloucestershirewildlifetrust.co.uk for more information.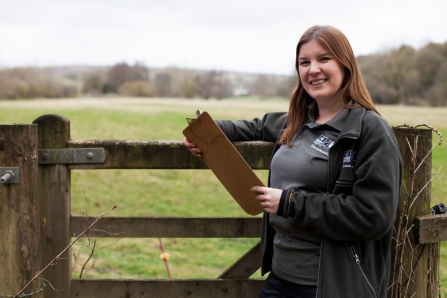 We offer our members a range of services from farm visits, soil sampling, Countryside Stewardship support and river habitat advice to a series of training events, workshops and meetings. Members are encouraged to suggest ideas and highlight training needs or areas of interest, this leads to a varied programme and past events have included 'grassland management for horses', 'rainwater harvesting systems' and an 'introduction to pollinators'. Upcoming events will include a visit to the enclosed beaver trial in the Forest of Dean to talk about Natural Flood Management, a soils workshop and advice on remaining compliant with the Farming Rules for Water.