Due to the Covid-19 outbreak, our student placements are currently not running. We hope to have placements running again from the spring.
We run a number of internships, based at our headquarters at Robinswood Hill Country Park.
You'll get hands-on experience and will have valuable insight that will help you choose your career path. Internships at the Trust are an excellent way to try different roles and gain knowledge from our team of experts. 
Who can be an intern?
We accept college or university students. We have an ongoing partnership with the University of Gloucestershire, but welcome applications from other colleges and universities. 
There are also plenty of regular volunteering opportunities available where you can gain the experience you need.
How long do internships last?
This varies between internships but they tend to be part-time 1-2 days a week over 6-12 months however on occasion we can offer full-time internships.
We often work with colleges and universities to create internship roles which work around your course or course placement requirements. 
Will I be paid?
No, our internships are unpaid.
What work will I be doing?
The daily tasks will vary widely, but we encourage interns to help within a particular area of our work.
Latest internship opportunity
We are now recruiting for a Communications Intern, find out more here
Below are examples of previous internships we have offered
Local Environmental Record Centre Intern

Working at Robinswood Hill with our Gloucestershire Centre for Environmental Records (GCER) team you'll gain experience in data entry using Recorder 6 - our main species database and GIS mapping using QGIS.

You'll also learn about data flow and how species data is used at local, national and international levels.
Outdoor Education Development Intern

Working with our Community team, you'll develop a set of curriculum-linked outdoor lesson plans and will work with local schools to produce lesson packs.

You'll have the opportunity to receive training on delivering outdoor education sessions.
Green Tourism Intern

You'll be cultivating relationships with tourism businesses and working with tourism centres to promote our events and wildlife walks. We'll encourage you to develop your ideas about how to link nature conservation and the visitor economy in the county.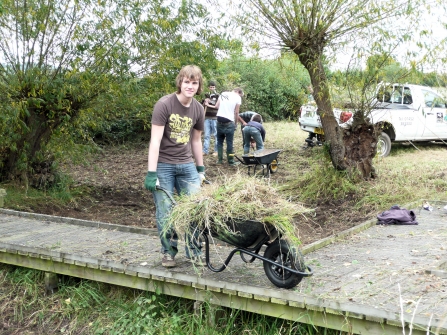 We may be able to offer other internships such as
Nature Reserve Management Intern

A part-time internship where you will be able to shadow one of our experienced reserve managers. You'll learn practical skills such as woodland management, heathland restoration and how to manage the land for the improvement of habitat connectivity.

We are currently looking for a regular volunteer or a student looking for work experience in the Forest of Dean area. You can find out more about our Forest of Dean Volunteer assistant here.
Evidence and Research Intern

Occasionally we can accept dissertation students and offer a research internship within our evidence team to help you collect data for your dissertation.

The research will need to be in-line with Trust objectives, and we will assess applications on a case by case basis.

We can ordinarily only accept one or two dissertation students a year so please apply at least three months in advance of when you would intend to start.

Past research internships have included deer population surveys, mapping rare plant distributions and phase one surveys.