GWT coronavirus update: during this difficult time, we know how important it is to get outdoors for fresh air, exercise and to immerse yourself in nature.
Please help us keep our outdoor spaces open to everyone for as long as possible by:
Maintaining social distancing – please avoid being within two metres of other visitors and avoid gathering in groups at play equipment, view points, and seating areas.
The cafe at Greystones is now open! We are serving tasty treats and a cracking cuppa between 10am and 4pm Thursday through Sunday. Please do pop in and say hello! We are serving take-away style from the hatch to maintain our staff and customer safety; there is outside seating available, or you are welcome to take your food and drinks for a picnic but please leave no trace! The toilets are also open whenever the cafe is open.
Greystones is one of the most important nature reserves in the country and provides a great day out for families. We carefully manage the land to ensure that wildflowers thrive and we are proud that Greystones is nationally recognised because of this. Our hay meadows support a stunning range of wildlife and wildflowers in the spring and summer.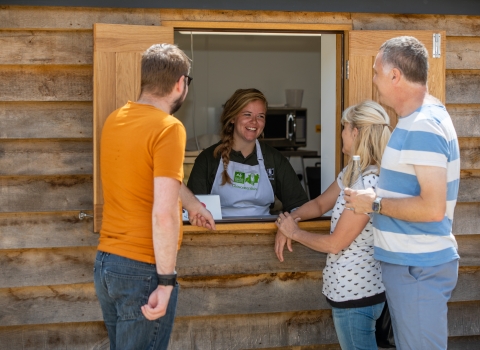 Opening Times
The café at Greystones Farm is currently open between 10am and 4pm Thursday through Sunday.
The team serve a range of fantastic cakes, pasties and pastries alongside Marshfield ice creams and Ethical Addictions coffee.
Bookings

We are able to reserve tables for groups of 9+ in our group space overlooking the wild garden. To ensure we can accommodate you using our daily menu please do let us know you are coming by emailing info@gloucestershirewildlifetrust.co.uk. 
Café Suppliers 

We are proud to work with local and sustainable suppliers. Our suppliers include Bensons juices, Ethical Addictions coffee, Cornish Connections pasties and baked treats and Hobbs House bread.
Dogs at Greystones Farm Café 

Dogs are not permitted in the café, with the exception of guide dogs. This is because the café has an open kitchen. You are more than welcome to bring your dog and enjoy a coffee and cake on our picnic benches. We also have a covered seating area to protect you from the elements!
Picnics & BBQs

Picnicking is allowed on the site but please be mindful to leave no trace, take all rubbish with and not to disturb or walk across the ancient meadows. BBQs are strictly not permitted.