GWT coronavirus update: during this difficult time, we know how important it is to get outdoors for fresh air, exercise and to immerse yourself in nature.
Please help us keep our outdoor spaces open to everyone for as long as possible by:
Maintaining social distancing – please avoid being within two metres of other visitors and avoid gathering in groups at play equipment, view points, and seating areas.
The cafe at Greystones is now open! We are serving tasty treats and a cracking cuppa between 10am and 4pm Thursday through Sunday. Please do pop in and say hello! We are serving take-away style from the hatch to maintain our staff and customer safety; there is outside seating available, or you are welcome to take your food and drinks for a picnic but please leave no trace! The toilets are also open whenever the cafe is open.
Greystones is one of the most important nature reserves in the country and provides a great day out for families. We carefully manage the land to ensure that wildflowers thrive and we are proud that Greystones is nationally recognised because of this. Our hay meadows support a stunning range of wildlife and wildflowers in the spring and summer.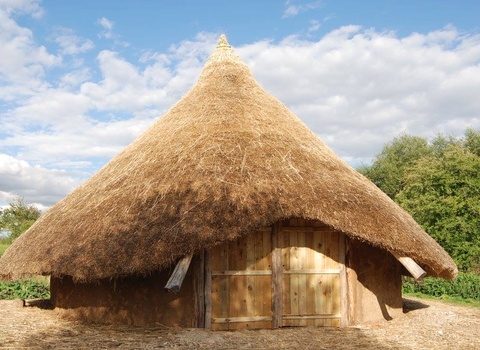 Site opening times
Greystones Farm is open 7 days a week.
There is no public parking at the farm, but it is only a short walk from the public car park and coach park in Bourton-on-Water. There are two spaces for blue badge holders. These are available during café opening hours (Thurs-Sun 10am-4pm) and must be booked in advance.
Plan your visit
Find us

Post code:  GL54 2EN

Grid reference: SP 17294 20923

From Stow-on-the-Wold, head south on Fosse Way/Roman Road/A429. After 3.1 miles turn left onto Station Road. Parking is available in the Station Road car park (pay and display) on your right, behind the petrol station. From here cross Station Road and turn left along the pavement. Then turn right onto the narrow lane between two houses (marked with a 'no through road' sign). Then turn left onto Greystones Lane and follow until you reach the farm.
From Cirencester, take the Fosse Way/A429 north via Northleach. Bourton-on-the-Water is on the right hand side and signposted.

From Gloucester, take the A417 to the Air Balloon roundabout then take the A436 through Andoversford which will lead you onto the A429. Head into the village on Station Road and Greystones can be found a couple of hundred yards before the coach park.
From Cheltenham, take the A40 to Andoversford before joining the A436, eventually linking up with the A429 outside Bourton where Greystones can be found along Station Road heading into the village.
From Bristol, head north on the M5 and exit at junction 11A. Follow the A417 and take the A436 towards Andoversford and follow the above instructions for Gloucester and Cheltenham.
Car parking

Please park in the village and walk in to the farm. The nearest car park is the pay and display car park on Station Road (300m from Greystones). Two parking spaces are available at the farm for people with limited mobility and wheelchair users. This must be booked in advance.
Coach parking

Coaches are able to park in the coach park on Station Road (300m from Greystones).
Accessibility

Greystones Lane, the area around the visitor centre (including the Discovery Barn, café and toilets), and the path leading past the Freedom Milking Parlour to the replica iron-age roundhouse are all wheelchair and pushchair accessible. Parking for blue badge holders is available on site, and must be booked in the Greystones office on 01451 810853 or head office 01452 383333 prior to the visit.
Dogs at Greystones Farm

We ask dog owners to note that this is access land and this means that dogs must be kept on short leads (2 metres or less) between 1st March and 31st July (as stated in the Countryside and Rights of Way Act 2000). Outside of these times dogs must be kept under effective control and on a short lead when near livestock.

Please come along prepared to clear up after your dog. The dog poo can cause sickness in cows and people, particularly the children who visit our site on school trips. Three dog bins are installed around the reserve – two on the Cemetery Lane and one on the Moore Lane.
Learning Visits

Gloucestershire Wildlife Trust's learning programmes are all about having fun in the outdoors and being close to nature; Greystones Farm offers a great setting and has a learning space adjacent to the café which overlooks the wild garden. To find out more and to book your tailored session, led by one of Gloucestershire Wildlife Trust's experienced team, please contact: education@gloucestershirewildlifetrust.co.uk. 

If you are a teacher, uniform group leader, or carer planning a self-led group learning activity or visit, please also contact education@gloucestershirewildlifetrust.co.uk to let us know the details. The team can check the spaces you wish to use are available and provide you with tips on how to get the most from your visit. We also offer a range of resources to aid self-led learning visits, such as our seasonal Wild Play guides.
Group Visits

Planning a group visit or event? Please send your enquiry (including group details, dates, times and requirements) to: info@gloucestershirewildlifetrust.co.uk. We can offer indoor and outdoor spaces, guided walks, talks, nature-based activities, and a variety of catering options. Our guided walks and talks are led by trained volunteers and can include a tour of the replica Iron Age Roundhouse.

Alternatively, if you are planning a self-led visit, we can provide you with top tips for enjoying the best that Greystones Farm has to offer. 

If you are a group of 9+ and are planning a self-led visit and would like to include time at the Greystones Farm café, please make sure you contact the café in advance of your visit. See the 'Eat & Drink' tab for more details. 

Research/Student Visits 

As Greystones Farm is a site of national importance and designated as a Site of Special Scientific Interest the unauthorised removal of soil, plants, or any other form of wildlife or wildlife habitat is strictly prohibited.  

If you wish to conduct any research or surveys at Greystones Farm, you must email info@gloucestershirewildlifetrust.co.uk with the details and obtain approval before your visit. 
Filming and Photography Visits

If you wish to carry out any commercial or student filming or photography at Greystones Farm, you must email marketing@gloucestershirewildlifetrust.co.uk with the details and obtain approval before your visit.  Please note - in some instances a fee will apply.