Take a look at our most recent large blue butterfly sightings and updates here!
Hello, welcome to the large blue butterfly sightings and update page! This June we will be giving you an inside view of these amazing butterflies and the important work we've been doing to help them.
On this page we'll be keeping track of their flight periods on our reserve Daneway Banks, and where the best places to see them are. Daneway Banks SSSI is a wonderful example of limestone grassland and home to the rare large blue butterfly. It is widely regarded as one of the best places in the world to see this star species.
So, keep tuned to find out more!
Why not also check out our blogs, where each week in June we'll be talking about all things large blue, their lifecycle, habitat and how we manage our reserves to help them and other species thrive in the beautiful Gloucestershire countryside!
Sightings and Updates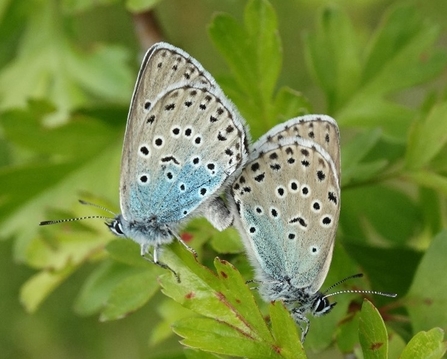 01 June 2021
No sightings as of yet, but yesterday was the first day our Large Blue Wardens were on site at Daneway Banks. These volunteers help us throughout the large blue flight period, noting down any sightings and have a large range of knowledge about the reserve and the wildlife that can be found there. Their more than happy to answer any of your questions!
07 June 2021
Even though the weather has been lovely and warm in the last week we are still waiting for the first sighting of the Large Blue at Daneway Banks.
Our Large Blue Wardens have been out on the reserve and have been keeping track of the other wildlife they have seen. This includes lots of different butterflies such as Common Blues, Brown Argus, Small Heaths and Dingy Skippers. A few orchids have also been observed on the reserve such as the Green Winged and Common Spotted.