Background summary of the catchment
King's Stanley lies in the Frome Valley, with higher ground and steeper slopes made up of Jurassic Oolitic Limestone. This form of limestone is extremely permeable but when water meets impervious clay it is driven out from underground in the form of springs. The prevalence of Oolitic limestone across the Cotswolds has resulted in abundant streams and brooks.
Poor land management practices in the Frome catchment has resulted in poor water quality with large quantities of sediment being released into watercourses causing diffuse sediment pollution. In addition, phosphate levels exceed the Water Framework Directive standards along with pesticides and industrial chemicals present in groundwater systems.
About the project
The aim of the work at Court Farm in King Stanley was to help reduce flood risk by slowing down the flow of flood peaks into the valley and divert water onto small floodplains, in addition to improving water quality by trapping sediment and diffuse pollutants.
To reduce flood risk downstream it is essential that there is close working between the community, private companies and landowners in order to responsibly manage drainage within the catchment. The Living Landscapes team worked with Chris Uttley, who at the time was the Project Officer for the Stroud Rural Sustainable Urban Drainage Systems (RSuds) project. The intention of Gloucestershire Wildlife Trust and Stroud District Council during this project was to help create a river catchment where water and land management practices were fully integrated.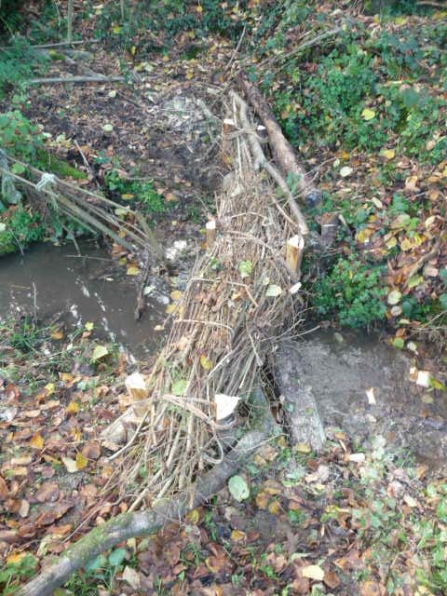 How was it achieved
To improve flood resilience, faggots were used in two watercourses at Court Farm. Faggots or fascines are bundles of untreated brushwood wood, typically hazel that are bound together with biodegradable rope. These faggots were then pinned into place using stakes that were made from sweet chestnut as this is a hardwood species and offers increased durability. Faggots can be used to stabilise a river bank face, trap silts and collect organic matter, including plant matter that may then root in situ. The watercourses at Court Farm had in the past been over deepened, leading to very steep banks that in some place had been poached by cattle. The faggot material was placed in stream across the direction of flow; this will help to filter the water and over time will collect sediment to build up the substrate.
Further downstream, felled trees were manipulated into the river with a Tirfor winch, and then drilled so that 2m steel bars could be placed through the large woody debris to secure the structures into the riverbed and riverbank. Large woody debris slows water by increasing resistance to flow and therefore reduces flood risk, whilst also improving the physical habitat of a watercourse offering a more complex habitat for fish and invertebrates.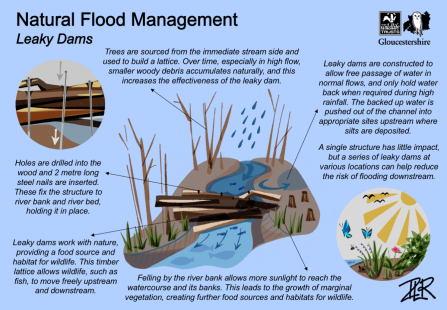 After the faggots and large woody debris had been installed in the two main watercourses of this site, children from Selsley Cubs and Scouts planted 130 trees to help aid infiltration and enhance wildlife connectivity. Trees intercept both rain and snow but they also absorb moisture from the ground enabling the soil to hold more water during heavy downpours.
The benefits of this work include:
Improving riparian biodiversity
Reducing the risk of flooding in the River Frome catchment
Creating valuable habitat for wildlife and people
Partnership working between landowners, local residents and organisations
Creating a river catchment where water management is fully integrated into land management practices