Background summary of the catchment
As with other areas of Gloucestershire, the Stroud Valleys have suffered with repeated flooding and excessive downpours in 2007 and 2009. The Slad Valleys have been designated as a rapid response catchment because of the vulnerability the catchment has to flash flooding. This is due to poor soil permeability throughout the catchment, which exacerbates surface water run-off.
Local residents have called for better protection that does not require hard engineered solutions. This is in part due to the distribution of the properties and the physical nature of the catchment but also due to the aesthetic value and heritage of the Stroud Valleys.
About the project
The aim of the work at Snows Farm was to help reduce flood risk in River Frome catchment by slowing down the flow of flood peaks into the valley and diverting water onto small floodplains, in addition to improving the in-stream habitat and banks for wildlife.
The Living Landscapes team worked with Chris Uttley, who at the time of the work was the Project Officer for The Stroud Rural Sustainable Drainage Project (RSuDs). The project helps to reduce flood risk for communities that live downstream through assisting owners of riparian woodland and agricultural land to implement Natural Flood Management techniques. Local support and knowledge was essential to ensure the right approach was adopted in the right place. Extensive partnerships between Stroud District Council, land managers, communities and farmers has helped to achieve significant reductions in flood risk throughout the River Frome catchment in Stroud.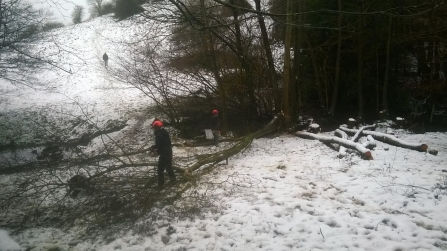 How was it achieved
A series of leaky dam structures were constructed through felling large stream-side alder that was donated by the landowner and then manipulated into place across the watercourse. The leaky dams were installed to create a partial blockage of the stream, where in low flows water can feely pass under the structures but after heavy rain at high flows, some water will be attenuated behind the leaky dam. The structures also deflect flow out of Dillay Brook onto the woodland floor, increasing infiltration and altering the way water moves through the landscape. The structures lower the peak water height and the rate at which floods travel down the valleys, reduce the amount of silt travelling downstream and provide an important habitat for wildlife.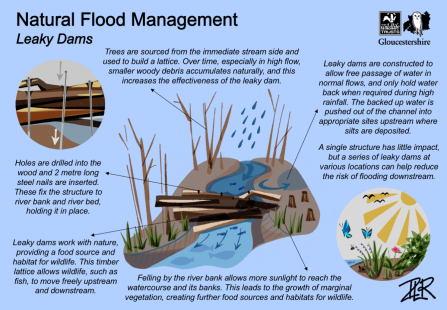 New livestock fencing was erected to help prevent cattle from poaching the ground. In addition, a new footpath was constructed to direct walkers away from the old boggy path and onto a new route that forms part of the Laurie Lee Way.
The benefits of this work include:
Improving riparian biodiversity
Reducing the risk of flooding in the River Frome catchment
Creating valuable habitat for wildlife and people
Partnership working between landowners, local residents and organisations
Creating a river catchment where water management is fully integrated into land management practices