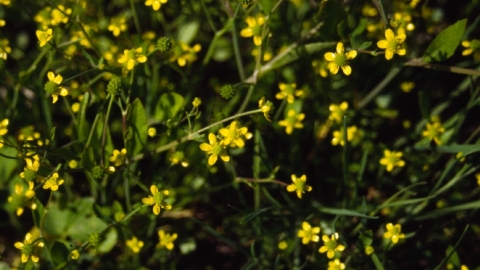 Badgeworth is one of the smallest nature reserves in the world and contains the rare adder's-tongue spearwort more commonly known as the Badgeworth buttercup.
Know before you go
Entry fee
No
Grazing animals
No
Access
The reserve opens once a year in June when the buttercup is in flower.
When to visit
Opening times
Limited Opening
Best time to visit
June
About the reserve
Badgeworth, near Cheltenham, is a SSSI and became the first nature reserve in the county when owner Mr. Hedley presented it to the Society for the Promotion of Nature Reserves in 1933. It was once in the Guinness World of Records for being the smallest nature reserve in the world in 1964. It is home to the rare adder's-tongue spearwort, locally called the Badgeworth buttercup, found at only two sites in the UK. The nature reserve is small and opens its doors once a year in June, when the buttercup is in flower, which attracts botanists from all over the UK. The pond in the nature reserve is the 'pool' in the name of the lane 'Cold Pool Lane'.   The nature reserve is also home to a number of other plants, which include lesser spearwort, common water-crowfoot, narrow leaved plantain, marsh speedwell, pink water-speedwell, fen bedstraw and marsh foxtail. Over 305 species of beetle have been recorded at this nature reserve. Common frog, great crested, smooth and palmate newt breed in the pond.   Badgeworth nature reserve was handed over to the newly formed Gloucestershire Wildlife Trust in 1962 and became our first nature reserve.
Environmental designation
Site of Special Scientific Interest (SSSI)