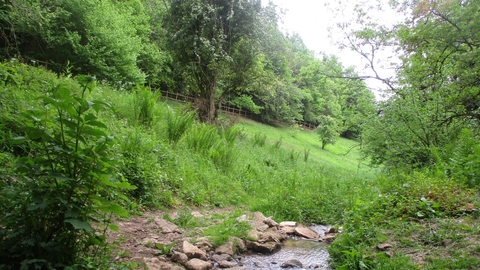 Dimmel's Dale lies in the Golden Valley and in area of species-rich unimproved grassland on a west-facing slope, with semi-natural ancient woodland at the top of the bank, and a brook at the bottom adding to the habitats found.

Wildflowers bloom throughout from cowslips in early Spring to devils-bit scabious well into autumn.

Explore this reserve on its own for a gentle stroll, or go for a longer hike throughout the Golden Valley starting at Dimmel's Dale and going on to discover other reserves including Daneway Banks.
Location
Know before you go
Entry fee
No
Grazing animals
Yes
Walking trails
Public Right of Way allows views throughout reserve and link to wider circular walks in the Golden Valley.
Access
Tracks through the grassland. Moderate in places. Can become very slippery in prolonged wet weather.
When to visit
Opening times
Open at all times.
Best time to visit
All year round.
About the reserve
The species rich grassland supports:
common spotted orchid
yellow wort
dyers greenweed
common restharrow
common rock rose
Yellow meadow anthills are found throughout, and if lucky, you may see a green woodpecker digging holes with its bill to get to the ants inside.
Due to the west facing slope, parts of the grassland are damper and support an abundance of betony and devils-bit scabious.
Butterflies thrive including marbled white, gatekeeper and common blue.
The semi-natural woodland contains oak, beech, hazel, ash, holly and whitebeam. nuthatches, tawny owls and great spotted woodpeckers are commonly seen. Amongst the dense areas of scrub, bullfinches can be heard calling.
Along the brook, grey wagtails and dippers are regularly seen, along with orange tip and green-veined white butterflies.
Contact us
Gloucestershire Wildlife Trust
Environmental designation
Area of Outstanding Beauty (AONB)
Local Wildlife Site (LWS)
The purchase of Dimmel's Dale in February 2019 was made possible by a donation left in memory of David Harman and his love for the outdoors, by his wife Jane.