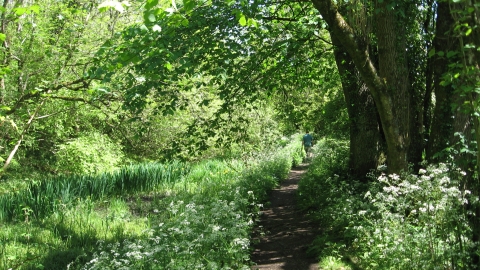 The site consists of a stretch of the derelict Severn and Thames Canal, flood meadows and woodland.
Know before you go
Entry fee
No
Grazing animals
No
Walking trails
This reserve is part of the Golden Valley Wildlife Way.
When to visit
Opening times
Open at all times
Best time to visit
March to June, January to December
About the reserve
The Sapperton Valley is considered to be an important wetland area, situated between the River Frome and the canal. There are a series of flood meadows and this area is damp, generally undisturbed and overgrown, supporting wildlife. A diversity of habitats are thus concentrated in a relatively small area and range from ancient woodland to wetland. The trees along the canal include pedunculate oak, ash, crack willow and field maple. The area is colonised with common reed, reed sweet-grass and the more open areas support marsh-marigold, yellow water-lily, water dock and gipsywort. meadowsweet and great willowherb flourish. There is also common valerian, purple-loosestrife, common marsh-bedstraw, yellow iris, ragged robin and marsh woundwort. Woodland flowers such as primrose, bluebell, yellow archangel and bugle thrive in a small wood near the tunnel entrance and under the towpath hedgerows.  This wetland area supports a variety of fungi, liverworts and mosses and the reserve is rich in bird life and recorded are moorhen, mallard, nuthatch, grey wagtail, marsh tit and blackcap.  There are good populations recorded of the common frog and common toad. Bats feed and roost in the area. Fallow deer are visitors to the reserve as is the fox. Molluscs found include the uncommon land winkle and Rolph's door snail.