Since 2016, we've been leading a project with young people in urban areas of Gloucestershire. Through Our Bright Future, participants work together to improve green spaces in social housing areas learning new skills such as how to build bird boxes. The improvements made to the local area benefit residents, visitors and wildlife.
Young people from all walks of life participate in the project, which creates an excellent platform to improve social skills and build better social understanding. Teamwork is a key element in all of our sessions as we are keen to develop transferrable personal skills as well as practical skills – all of which give young people experience, improve their confidence and help them to prepare for paid employment.
Pupils from a wide range of schools and colleges are involved, including from five secondary schools (All Saints Academy, Bettridge School, Tewkesbury School, Barnwood Park Arts College and Beaufort Cooperative Academy), Gloucestershire College and Llanthony Secunda Priory.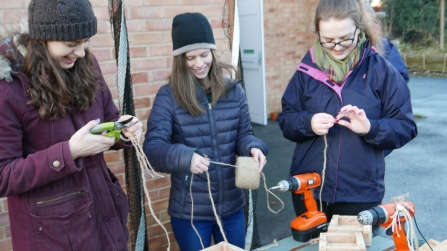 Habitat improvements may be carried out at these locations, or in other areas of the community. Our Bright Future also runs three weekly sessions for 16-24-year-olds who carry out improvements at three sites within social housing areas: The Redwell Centre in Gloucester, Whaddon Youth Centre in Cheltenham, and at our 'Training Garden' in Prior's Park, Tewkesbury.
The Training Garden itself is an exemplar wildlife garden in the heart of an urban social housing area. Local people of all ages regularly volunteer at the garden to help create innovative growing areas and sustainable water collection and dispersal features. It has been changed from a patch of grassland into a habitat for a diverse collection of flora and fauna. The garden showcases space saving practices, offering our native urban based pollinators a bank of pollen and nectar throughout the year. Thanks to the bath tub pond It is also home to both common toads and frogs.
Our Bright Future participants have the opportunity to earn a certificate in Habitat Management and Community Engagement by completing a range of modules which are accredited by AQA. During each project, participants are likely to have built raised planters, bird boxes, bee homes and compost bays; created log piles and dead hedges and organised a community clean up for wildlife. We focus on recycling materials, using pallets, downpipes and even a chicken hutch to make homes for wildlife. Every activity contributes to the improvement of our urban habitats, supporting a wide range of local species from house martins to hedgehogs and solitary bees.
A key element to all of our sessions is to develop skills such as teamwork, health and safety, punctuality and time management as well as practical skills – all of which give young people experience, improve their confidence and help prepare for paid employment.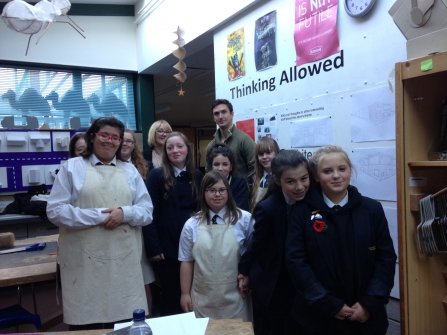 Our Bright Future is supported by the Big Lottery Fund. Gloucestershire Wildlife Trust, in conjunction with Avon Wildlife Trust, is delivering one of 31 funded projects throughout the UK. Participants have joined after seeing Facebook adverts, because of word of mouth recommendation, and because of connections made with organisations and projects such as Young Gloucestershire, Gloucester Rugby Club HITZ programme, the Youth Support Team, Prospects Training Services and Jobcentre Plus.
Young people who take part in our community sessions have recently set up their own social media channels and we are now beginning to develop strategies together on how to lobby for increased protection of green spaces in the future. With impending legislation changes across many government departments we want to take this opportunity to influence decision makers and lobby for a new and improved Environment Act over the next year.
Our Bright Future runs three sessions for 16-24-year-olds each week:
Our Bright Future Training Garden, 101 Queens Road, Priors Park, Tewkesbury – Tuesdays 2 – 4.30pm
Whaddon Youth Centre, Dart Road, Cheltenham – Wednesdays 2 – 4.30pm
The Redwell Centre, Redwell Road, Gloucester – Fridays 2 – 4.30pm
Participants need to book a place to attend these sessions. For more information or to join the project, contact Milly Spencer by email or call 01452 383333.