Gloucestershire Wildlife Trust has been involved in the debate over bovine TB for over 30 years
In 2011 we were the first non-Governmental organisation in England to launch a badger vaccination programme on seven of its nature reserves.
Support from Stroud District Council and a successful appeal to our members raised over £30,000 which meant that we were able to extend our badger vaccination programme beyond our reserves on to neighbouring farmland.
Unfortunately the vaccination programme on non-Trust land ceased after only three years due to a global shortage of the vaccine. But we have been urging Government to secure a new vaccine source in order that our trial – and vaccination programmes across the UK - can start gain in 2017.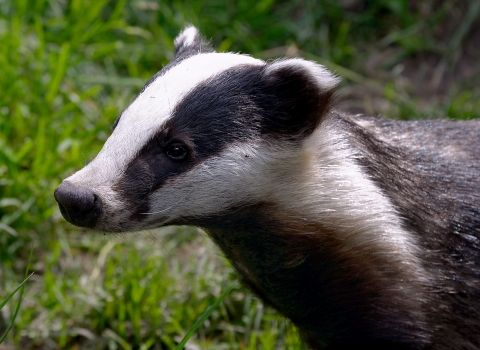 The Facts
Badgers are not the main route of infection for farmers' herds – this comes from cattle-to-cattle contact
Only 1 in 20 herd infections are due to transmission from badgers
Culling disrupts badgers' social structure, causing them to move around more frequently and over longer distances – which can actually result in increased bovine TB transmission
We do not permit badger culling on any of our nature reserves
We recognise that bovine TB transmission can cause distress and hardship to farmers who are affected. We are committed to working with farmers to find effective solutions that work for everyone
It costs £496.51 to kill a badger, compared with £82 to vaccinate
Until a cattle vaccine is developed, the most effective strategy for tackling bovine TB is a combination of strict biosecurity, movement controls and robust cattle testing regimes alongside a strategic badger vaccination programme
Badger vaccination can reduce the chance that a badger will test positive for bovine TB by as much as 76%
Ultimately, however, we believe that a cattle vaccine is the sustainable long term solution to the challenge of bovine TB and we will continue to work with others in the wider Wildlife Trust movement to lobby on this issue.
We are keen to hear from landowners interested in badger vaccination and who would like to join together to make a bigger difference.
Why vaccinate badgers?
Vaccinating badgers can significantly reduce the extent of bovine TB (bTB) and the potential for transmission to cattle without the disruption of a cull. In a veterinary field study, vaccinating wild badgers resulted in a 74% reduction in the incidence of badgers testing positive to the antibody blood test for TB. 
In comparison, culling trials have shown that shooting 70% of wild badgers could reduce bTB cases by 12–23% over nine years – and may increase cases of bTB on the outskirts of the zones. Even for those who accept a cull of badgers, vaccination will reduce the risk of infection of cattle from the remaining badger population.
Vaccinating badgers can significantly reduce the number of cubs testing positive for bTB, when more than a third of social groups had been vaccinated the risk to unvaccinated cubs was reduced by 79%.
How badger vaccination works