Hedgehog Way
Hedgehogs are one of the UK's fastest declining mammal species with urban areas supporting particularly important populations. Hedgehog Way will bring three urban communities together to improve hedgehog habitat connectivity, in response to local interest and information requests from Cheltenham and Gloucester communities on how to help hedgehogs. Our project will engage residents in neighbourhood-scale action to increase linkages for hedgehogs between gardens and green spaces, and test the effectiveness of widely-used hedgehog holes in increasing hedgehog movement. Residents will work with their neighbours to survey and track hedgehogs and create habitat improvements and hedgehog holes to create hedgehog ways.
Our project will result in:
Greater evidence base of effectiveness of hedgehog holes between green urban space and gardens with statistical analysis of the improvement of hedgehog dispersal due to creation of new hedgehog ways via hedgehog holes;
Increased habitat for hedgehogs with 30 new hedgehog ways created;
Greater understanding of number and spread of hedgehogs in area;
Improved and tested directions for personal use for hedgehog habitat improvements and links to resources they can go to;
Higher profile of hedgehogs in three target audiences with greater community action to support their survival;
A project report will be produced and disseminated widely to inform the long-term conservation of hedgehogs.
Our Hedgehog Way project is being funded by the People's Trust for Endangered Species, the British Hedgehog Preservation Society and Cheltenham Borough Council Community Pride.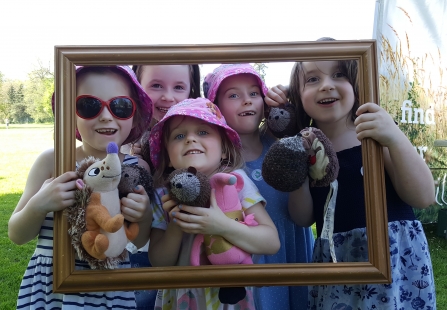 Our Bright Future
Since 2016, we've been leading a project with young people in urban areas of Gloucestershire. Through Our Bright Future, participants work together to improve green spaces in social housing areas learning new skills such as how to build bird boxes. The improvements made to the local area benefit residents, visitors and wildlife.
Young people from all walks of life participate in the project, which creates an excellent platform to improve social skills and build better social understanding. Teamwork is a key element in all of our sessions as we are keen to develop transferrable personal skills as well as practical skills – all of which give young people experience, improve their confidence and help them to prepare for paid employment.
Pupils from a wide range of schools and colleges are involved, including from five secondary schools (All Saints Academy, Bettridge School, Tewkesbury School, Barnwood Park Arts College and Beaufort Cooperative Academy), Gloucestershire College and Llanthony Secunda Priory.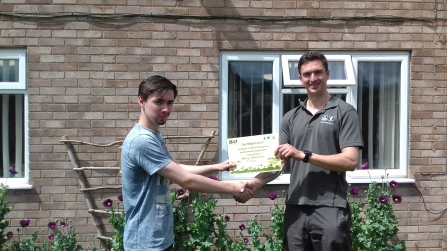 Wild Welcome
We are using our knowledge, enthusiasm and understanding of the natural world to provide 60 disadvantaged children and young people from Gloucestershire Action for Refugees and Asylum Seekers with opportunities to play, explore and improve their local green spaces and the natural world they find themselves in, in their new home in a new innovative project.
We are running after-school and after-college sessions with nature-based activities to help child refugees and asylum seekers to feel a connection to their new local environment. This will work towards our aims of connecting people with wildlife and engaging everyone, no matter their background, in taking action for nature. The children and young people will feel at home in their new environment, have the opportunity to make new friends and help make a home for nature in their community by building bird boxes, undertaking wildlife gardening and making practical improvements to green spaces. This will help the children and young people integrate into their new community as well as help them to build a connection to wildlife and the natural world.
This wonderful project is being kindly funded by St James's Place Charitable Foundation and the Holroyd Foundation.