GWT coronavirus update: during this difficult time, we know how important it is to get outdoors for fresh air, exercise and to immerse yourself in nature. Please visit with sensitivity and care, and adhere to current government guidelines around social distancing.
The cafe and toilets are currently open between 9am and 5pm. The mobility tramper is also available for hire - please see further information in the Pan your visit FAQ's below. Crickley Hill's opening hours are currently 6am to 9pm and visitors will need to pay to park. Remote payment options are available to use before or after your stay to minimise contact and queuing at the payment machines.
Here's all the information you need when planning your visit to Crickley Hill. Please note that opening times will change throughout the year.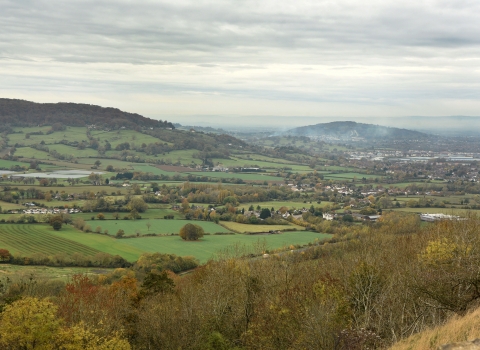 Site opening times
Crickley Hill car park's current opening times are 6am - 9pm. Car parking charges still apply - we have just updated the tariff to a flat £2 all day rate following visitor feedback. 
Please note that the site gates are closed and locked each evening, please ensure you exit the site ahead of the gate closure time indicated on the main entrance sign. You will be charged if you are locked in on site. 
Plan your visit
Find us

Crickley Hill is located near Birdlip, in between Gloucester and Cheltenham, a short distance from the A417 and A436. 

From Gloucester: take the A417 out of the city to the Air Balloon roundabout, take the first exit onto the A436 and take an immediate left onto Leckhampton Hill. The entrance to Crickley Hill is on the left. 

From Cheltenham: head outwards on Leckhampton Road, eventually joining Leckhampton Hill. Follow the road towards Birdlip and before reaching the Air Balloon roundabout Crickley Hill can be accessed on the right-hand side. 

From the M5: exit the M5 at junction 11A. Follow the A417 to the Air Balloon roundabout and take the first exit onto the A436. Take an immediate left onto Leckhampton Hill and the entrance to Crickley Hill is on the left. 

If using a sat-nav the postcode is: GL4 8JY. 
Car parking and charges

Crickley Hill offers pay-to-stay parking for 100 cars. Please note that the car park is not suitable for coaches, minibuses, or large motor homes. 

Parking charges apply 24 hours a day, 7 days a week. All visitors are required to pay to stay at Crickley Hill including Gloucestershire Wildlife Trust members, National Trust members and Blue Badge holders.

The tariff is a £2 all day flat rate. You can come and go within the day without needing to pay again. 

Payment can be made by cash, card (including contactless), phone, online, or by downloading the RingGo app. If, for any reason, you are not able to use a payment machine on site, you must use one of the remote payment methods. You can also use the remote methods to pay after leaving, so long as this is done by midnight on the same date.

Regular visitors can make savings by purchasing a parking permit; with a valid permit you can visit as often as you like for as long as you like without remembering your wallet!

A parking charge notice of £100 will be issued to any unauthorised vehicle, so please make sure you enter the correct vehicle registration number when making your parking payment. 

Gloucestershire Wildlife Trust owns the car parking facilities at Crickley Hill. Every time you pay to stay you are helping support the £5000 Gloucestershire Wildlife Trust needs each week to look after the site, to improve habitats for wildlife, to protect important archaeology and to maintain and improve visitor facilities. 
Paying for car parking after your visit

It is possible pay after leaving the site if you forgot to pay while on site, or didn't have access to a suitable payment method at the time.

To make a payment after leaving the site please quote location code 4852 and: 

Please note that payments must be made before midnight on the date of your visit.
Coach, minibus and motor home parking and charges

Unfortunately, due to the topography of Crickley Hill, we cannot provide suitable or safe turning or parking space for coaches, minibuses or larger vehicles (e.g. motor homes) in the main car parks. 

Gloucestershire Wildlife Trust has a dedicated parking area specifically for coaches, minibuses and larger vehicles; this must be booked at least 24 hours in advance (and before 3pm on a Thursday if wishing to visit on Saturday or Sunday of the same week).  

Make your booking here  (select 'Daily Coach Permit').  

You must also email  info@gloucestershirewildlifetrust.co.uk to notify us of your arrival and departure times so we can ensure a member of our team is available to unlock the coach park and welcome you. 

Please note: overnight parking is not available at Crickley Hill. The main gates are locked each evening (please refer to the welcome sign for closing times as these vary throughout the year). There is a fee, payable to the security company, if you need to call them out to release your vehicle after the site is closed. Details can be found on the tariff boards in the car parks.

Please note: if you have booked a session with our learning team you do not need to make a separate booking for the coach park, the learning team will automatically make arrangements on your behalf.
Accessibility

The top car park, which offers several disabled parking bays, is located opposite the café and toilets. It is also possible to admire the stunning view from this car park. The ground is level between these parking spaces and the visitor facilities. 

The café and visitor hub are both wheelchair accessible and assistance dogs are welcome.   

There is an accessible toilet. The male, female and accessible toilets each have baby-change facilities. 

With thanks to the European Agricultural Fund for Rural Development, an accessible, circular trail was created in January 2019. The trail, while undulating and bumpy in places, is suitable for all-terrain pushchairs and wheelchairs.  

Gloucestershire Wildlife Trust has a mobility 'tramper' available for hire at Crickley Hill. This all terrain electric scooter is a great way to enjoy the accessible, circular trail. The tramper is currently available only to Countryside Mobility members at the moment, but you can sign up when you visit Crickley Hill. To ensure availability, the 'tramper' must be booked in advance minimum 48 hours by emailing info@gloucestershirewildlifetrust.co.uk. If you would like to use it on the weekend, please email us by midday on Thursday prior to the weekend.

Please also visit the Countryside Mobility webpage and watch the video about how to use the tramper vehicle: https://www.countrysidemobility.org/conditions

The tramper is available between 9:30am and 4pm. The hiring cost is £5 for half day (available between 09:30am and 12:30 am and 1pm and 4pm). Please note, that we accept card payments only at the moment.

Downloadable tramper hire form
Dogs at Crickley Hill

Crickley Hill is a dog friendly site, however we ask visiting dog walkers to help protect the site's unique wildlife by following a couple of simple etiquette guidelines: 

Please clear up after your pooch – there are complimentary poop bags available at the café and several dog poop bins located around the site. 

Keep dogs on short leads between March and July - a lot of Crickley Hill is designated as open access land which means Gloucestershire Wildlife Trust and the National Trust have a legal obligation, in line with Countryside and Rights of Way Act 2000, to ensure dogs are kept on short leads between March and July. This is to protect vulnerable wildlife, such as ground nesting birds. There always remains over 65 acres of the site (which is not open access land) available for dogs to walk off lead. Between March and July, more details and guidance are provided on site. 
 

Always keep dogs under close control – help reduce disturbance to wildlife, grazing cattle, and other visitors by ensuring your four-legged friends are carefully controlled, year-round. 
 

Use the external café service points – dogs (other than registered assistance dogs) are not permitted inside the café. However, there is an external, undercover, all-weather seating area and an external service hatch.  Water bowls, handmade dog treats, and Marshfield's Scoops ice-cream for dogs are available for canine visitors. 
Learning Visits

Gloucestershire Wildlife Trust's learning programmes are all about having fun in the outdoors and being close to nature; Crickley Hill offers a great setting and even has a dedicated woodland learning space. To find out more and to book your tailored session, led by one of Gloucestershire Wildlife Trust's experienced team, please contact: education@gloucestershirewildlifetrust.co.uk. Please note if you are booked for a session with our learning team you do not also need to book the coach park, the Learning Team will arrange for that for you.

If you are a teacher, uniform group leader, or carer planning a self-led group learning activity or visit, please also contact education@gloucestershirewildlifetrust.co.uk to let us know the details. The team can check the spaces you wish to use are available and provide you with tips on how to get the most from your visit. If arriving by minibus or coach, please ensure you have booked your space in the coach park. 
Group Visits

Planning a group visit or event? Please send your enquiry (including group details, dates, times and requirements) to: info@gloucestershirewildlifetrust.co.uk. We can offer indoor and outdoor spaces, guided walks, talks, nature-based activities, and a variety of catering options. 

Alternatively, if you are planning a self-led visit, we can provide you with top tips for enjoying the best Crickley Hill has to offer. 

If you are a group of 9+ and are planning a self-led visit and would like to include time at the Crickley Hill café, please make sure you contact the café in advance of your visit. See the 'Eat & Drink' tab for more details. 

If arriving by minibus or coach, please ensure you have booked your space in the coach park. 

Research/Student Visits 

As Crickley Hill is a site of national importance and designated as a Site of Special Scientific Interest the unauthorised removal of soil, plants, or any other form of wildlife or wildlife habitat is strictly prohibited.  

If you wish to conduct any research or surveys at Crickley Hill, you must email info@gloucestershirewildlifetrust.co.uk with the details and obtain approval before your visit. 
Filming and Photography Visits