Nature Tots
Sadly, as of June 2020,  Nature Tots is not currently running due to COVID-19 but we've put together some ideas and resources for outdoor play so you can continue to have nature tots fun whilst at home. Head over to: www.gloucestershirewildlifetrust.co.uk/wildlife-activities
We're looking forward to when we can welcome you back to our Nature Tots groups and we are carefully following updates to Government advice and working on procedures that will enable Nature Tots to return as soon as possible.
Get outside with your little ones and explore the wonders of nature in Gloucestershire with Nature Tots. We engage pre-school children in hands-on outdoor activities themed around wildlife.
Activities are age-appropriate and designed to promote greater confidence in the outdoors, physical and social development, and an interest in the natural world.
Nature Tots head out in all weathers so please ensure you and your little ones are dressed appropriately.
Book tickets for Nature Tots here
Nature Tots at Crickley Hill, Cheltenham
Meets at 10am on the first Thursday of every month at Crickley Hill café. Please book ahead to avoid disappointment.
Nature Tots at Greystones, Bourton-on-the-Water
Meets at 10am on the second Friday of every month near the Café at Greystone Farm and Nature Reserve. Please book ahead to avoid disappointment. There is no public parking at the farm, please park in the village. The farm is just a short walk up the lane.
Nature Tots in the Forest of Dean
These run in two locations during term time only;
Angus Buchanan Fields in Coleford – Meets at 10am on the first  Tuesday of the month
Beaver Lodge in Parkend – Meets at 10am on the third Tuesday of the month
Please book in advance online or by contacting rosie.kelsall@gloucestershirewildlifetrust.co.uk or 07901 711852
Who needs a ticket?
Nature Tots is suitable for children at the age that they start to walk independently. Each Nature Tot that is walking or approximately age 12 months and would like to participate needs to book a ticket for the session. Book here.
If your Nature Tot has a younger sibling that is not yet walking, please feel free to bring the sibling along free of charge.
Volunteer with Nature Tots
If you are interested in supporting Nature Tots as a volunteer please contact us at volunteering@gloucestershirewildlifetrust.co.uk to find out more information.
Please note we cannot accept volunteers who would like to support the group in a volunteering capacity at the same time as their children attend the activities, unless there is another adult to accompanying their child / children. 
Wildlife Watch Groups
If your children care about nature and love getting close to wildlife, then Wildlife Watch is the club for them! This is the page to find out more about joining one of our local Wildlife Watch groups and becoming a junior member of Gloucestershire Wildlife Trust.
You don't need to be a member of Gloucestershire Wildlife Trust to come to a Wildlife Watch group but Wildlife Watch Membership is a great way of finding out more about nature and supporting our conservation work at the same.
Find out about our children and family membership here.
We have two Wildlife Watch groups across Gloucestershire that provide fun and unique ways of getting up close to wildlife.
Each group has their own programme of activities but they might include things like bat detecting, butterfly surveying, den building, mammal trapping, river dipping, natural crafts, bird box building, nature hunts, night walks, and much more. Wildlife Watch groups are run by dedicated and passionate volunteers.
Forest Explorers - The Forest of Dean area group
Forest Explorers, the Forest of Dean: meets 2 - 4pm usually on the second Saturday of every month. Booking is essential for these events – for info and to book, email forestexplorersfod@gmail.com
Newent Watch Group
This group meets at various locations in and around Newent. For more information please contact us.
 If you are interested in setting up a Wildlife Watch group in your area we would love to hear from you, please do contact us. 
Email: education@gloucestershirewildlifetrust.co.uk
Phone: 07342 999052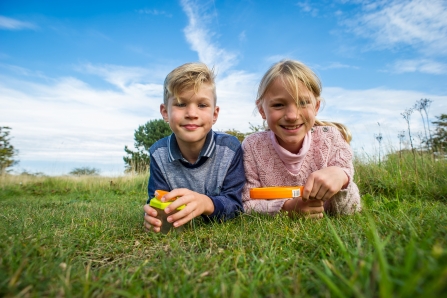 Activities for Groups
We offer a range of activities that allow children's groups to explore, discover and gain personal experiences in nature.  If you are interested in running a community project or carrying out conservation activities please contact us to discuss possible ideas.
We can help Rainbows, Brownies and Guides, Beavers, Cubs and Scouts work towards many badges including:
Rainbows - Explore | Nature
Brownies - Seasons | Out and About | Wildlife Explorer | Environment 
Science Investigator | Seasons | Out and About | Wildlife Explorer
Guides - Explorer Badges |Backwoods Cooking 
Beavers - Explore | My Adventure Challenge | My World Challenge
Cubs - Backwoods Cooking | Environmental Conservation | Naturalist
Scouts – Environmental and Conservation