Becoming a Wild Trainee 
We are particularly interested to attract trainees from backgrounds that are not currently represented in our organisation or the environment sector. We have extra support available for food, travel and training which will be discussed at interview.
Many passionate and talented people want to pursue a career in conservation but lack the skills and experience. Wild Trainees will gain all of the essential skills and experience required to enable them to apply for their first paid job in the sector. Wild Trainees take part in certificated and work-based training, as well as gaining experience in all of the diverse roles undertaken by staff at Gloucestershire Wildlife trust.
Experience and/ or qualifications needed
The Wildlife Trusts are keen to reflect the diversity of the British Community within our workforce and applications from people from disadvantaged backgrounds or under-represented groups are particularly welcome.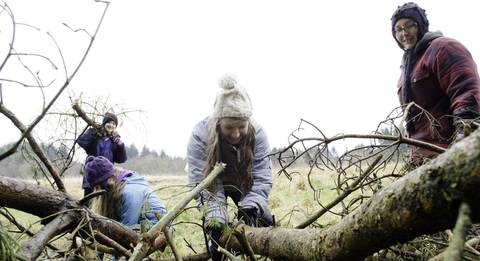 About the role
We are looking for two teams of four Wild Trainees with one team working in the East of the county and the other working in the West. You will be based at Robinswood Hill Country Park (GL4 6SX) and from here travel out to our reserves or if working with the Wilder Landscapes team a private landholding or farm. But we also want to make it as accessible as possible, so we will cover Trainee's travel expenses as well as provide thousands of pounds in training and all of the clothing and safety equipment needed.
Wild Trainees will volunteer for 6-12 months, three days per week (Tues, Weds and Thurs in our East team, and Weds, Thurs, Fri in our West team) in a team mentored and supported by GWT's professional land managers.
Trainees will lead other volunteers on GWT land and deliver natural solutions work on neighbouring farmland and private land.
Bursary
We want to break down the barriers to entry for new entrants from under-represented communities. We have extra support in the form of a limited bursary available for food, travel and training which will be discussed at interview. The bursary pot will be discussed on an individual basis with successful applicants.
They will gain skills such as: using power tools, first aid, handling livestock, safety on site, woodland and grassland management, species identification, fencing and much more.
What will Wild Trainees do?
Wild Trainees will spend most of their time outside in all weathers gaining hands-on experience. Everything is geared towards Trainees receiving meaningful experience to put on their CV and to use when applying for jobs at the end of their Traineeship. This includes (but is not limited to):
Chainsaw qualification
Natural flood management
Invasive species management
Brushcutting
Coppicing
Hedgelaying
Working with livestock
Surveying
Scything
Meeting farmers
CMSi and QGIS conservation software training
First aid qualification
Installing fences and gates
Experience provided
The mix of activities varies, depending on the time of year, location and what each Trainee wants to spend their time doing.
Experience gained will be relevant to the nature and location of each traineeship and may include:
Habitat management
Species identification
Botanical surveys
Landowner advice
Using conservation management systems
Managing livestock
Volunteer management
Health and safety
Access and interpretation work
Assisting with planning and delivery of events and supporting engagement and learning activities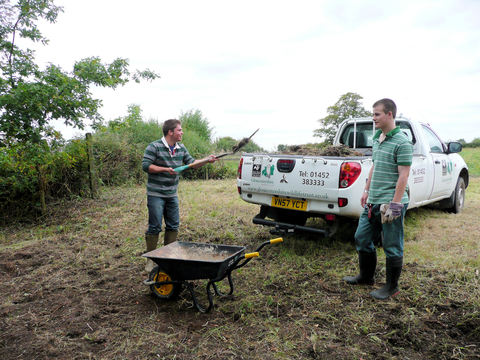 What training is on offer?
In addition to the vital skills acquired through their day-to-day activities, Wild Trainees will develop their skills through certified and vocational training. There is a programme of core training, with relevant modules available to Trainees. Trainees will be supported by their mentor through regular one to one meetings to set, review against and update objectives that are relevant to the Wild Trainee development plan.
Core training
Each Wild Trainee will undertake a certified Outdoor First Aid course and have the opportunity to undertake external certified training in the safe use of chainsaws (if committing to 6 months or more). An additional Bursary training pot is also available to each trainee where they can gain paid-for training according to their Wild Trainee development plan.
There are also 14 days of internal vocational training available over the course of the year in:
Handling Livestock
Site Safety and Risk Assessments
Leading Volunteer groups
Fencing and gates
Butterfly ecology and survey
Dragonfly/ damselfly ecology and survey
Mammal ecology and survey
Botanical identification and survey
Bird ecology and survey
Land Management advice and Natural Flood Management
Groundtruthing the nature recovery network
Identifying the natural capital baseline on farmland
Job applications and interview training
Scythe training masterclass
Wild Trainee Development Plan
At the start of the Traineeship, each Wild Trainee will meet with their mentor to agree objectives in a Wild Trainee development plan.  This provides Wild Trainees with the opportunity to set training and experience objectives for their Traineeship. These are reviewed and updated regularly during one-to-one meetings with their mentor.
Each Wild Trainee will design and deliver a land-based project of their choice. They will work extensively across GWT's own estate, but also with our partners and farmers with whom we deliver projects. Wild Trainees will receive travel expenses to get to their traineeship whether that is by bicycle, car or public transport, and each team will use a dedicated vehicle to get to rural sites from a GWT office.
Wild Trainees will organise a dedicated annual event, bringing GWT's partner organisations together to disseminate learning and best practice. These will also be an opportunity for trainees to showcase their own projects, to network and meet potential future employers.
What you'll need
You do not need any previous experience to become a Wild Trainee. Just enthusiasm to be out in all weathers delivering natures recovery and a proactive 'can do' approach to delivering practical tasks. Applicants should have a keen interest in UK wildlife conservation, a good level of fitness and be willing to supervise and lead volunteers that are different ages and backgrounds. Applicants should also be willing to be trained on and use power tools.
A commitment of three days per week for 6 to 12 months is essential.
Interested? 
Apply below. Good luck!
Wild Trainee role description
Wild Trainee role application form