From injured animals to reporting wildlife crimes and guidance on planning applications, our wildlife advice page can help advise you on the best action to take.
Local wildlife and hedgehog hospitals
We are unfortunately not able to take in or provide care for injured wildlife. There are a number of nearby wildlife and hedgehog specific hospitals in the county who can deal with your query and take in injured animals.
Hedgehog hospitals
Wild Hogs Hedgehog Rescue
Brockworth Hedgehog Rescue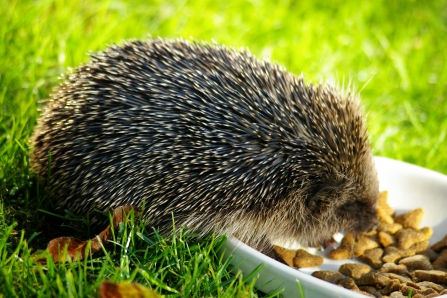 Reporting wildlife crimes
If you witness a wildlife crime or suspect that one has taken place then you need to contact the Gloucestershire Constabulary.
Careers and volunteering
If you are looking for a full or part-time position in the conservation sector then keep an eye on our job pages for our latest vacancies.
We have a large number of volunteering roles available and are always keen to welcome new volunteers. Check out our volunteering opportunities and discover what you can do to help wildlife here in Gloucestershire.
Wildlife ID
Our Species Explorer is a brilliant way to help you identify a species you've discovered, whether you saw it out and about or in your garden at home!
Another useful website for wildlife identifications is iSPot, which covers the UK and Ireland.
Got a wildlife sighting you'd like to report? Visit GCER (the Gloucestershire Centre for Environmental Records) and report a sighting to add to the most comprehensive source of information for wildlife in the county.
Planning advice
We don't routinely comment on planning applications but we do sometimes get involved in key applications which may present a threat to wildlife.
Take a look at our Planning Applications pages for further guidance on what we do for planning applications and what wildlife issues there are to consider in the planning process.
Environmental Pollution incidents
To report an incident, for example a chemical spill or flytipping, contact the Environment Agency hotline.
Bees and swarms
Please contact local beekeeping associations such as the Gloucestershire Beekeepers Association.
Practical work
Gloucestershire Wildlife trust are unable to provide staff for the specific removal, control or identification of wildlife in gardens or elsewhere. For specific requirements, take a look at the services Wild Service have to offer.