Gloucestershire Wildlife Trust protects wildlife for the future. We connect and improve Gloucestershire's wildlife and wild places.
We have a vision where each year there is more wildlife, more wild places and more people with a connection to the natural world wherever they live in the county.
We are the largest nature conservation charity in the county and rely on the generous support of the public and funders.
Our work
Managing and enhancing 60 nature reserves
Giving children of all ages the chance to love being outside, whether through our sessions with schools or through informal activities
Developing dynamic visitor centres at Crickley Hill, Greystones and Robinswood Hill
Inspiring individuals and communities to appreciate and get involved with the wildlife and wild places around them
Improving spaces for nature throughout the county and creating 'living landscapes' for wildlife and for people
Restoring and enhancing rivers
Leading the way in Natural Flood Management, to protect our urban areas
Providing socially isolated, marginalised and unemployed people with the chance to learn new skills and improve their employment prospects and wellbeing
Providing land management and ecological consultancy services through Wild Service, a partnership between Gloucestershire Wildlife Trust and Avon Wildlife Trust
Our supporters
It is thanks to our wide range of supporters that we've been able to make such a difference to wildlife and wild places in Gloucestershire since we were established in 1961. Our current supporters include 28,000 members as well as corporate supporters and charitable trusts.
We are also grateful to our 500 active volunteers, whose input is vital whether they are putting up fencing on a nature reserve, tending the gardens at Robinswood Hill and Greystones, or helping in the office.
Our impact during 2017 and 2018
We are now engaged with 55% of primary schools in Gloucestershire, compared with 14% in 2016/17
In the last year, we have helped more than 18,000 young people to experience wildlife, whether close to where they live in towns and cities or on one of our nature reserves
Are developing wildlife-rich towns that residents will want to protect for years to come
In the last year 81% of participants on selected courses reported an improvement in their mental wellbeing and 83% of young participants felt more confident about applying for a job.
To find out more about our impact in the last year, read our Impact Report 2017-18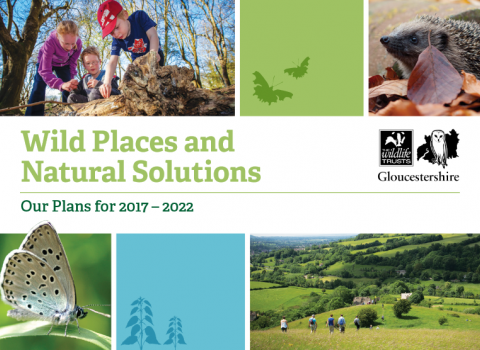 Strategic Plan
Our Strategic Plan is our vision for wildlife in Gloucestershire and our most ambitious plan yet.
Find out more