From 12 April 2021 schools can make educational trips. Make your school workshop booking now for the summer term.
Whether it is curriculum linked school trips, interactive workshops, our countywide nature quiz, online teachers resources or school ground advice here is where you find out more about what we offer to early years settings and primary schools.
We have updated our workshop activity plans in response to COVID-19, and now have the processes in place to deliver COVID-19 secure workshops to schools and early year settings.
We are still taking bookings for face to face workshops from March 2021 onwards and have also updated and our booking terms to be more flexible as we know this is a challenging time for educational organisations.
To discuss any Primary School activity please contact the Learning Manager on: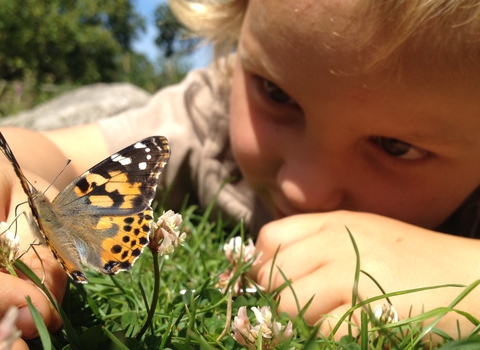 Wild learning – workshops and trips for primary schools
An experienced and skilled learning team will lead your day and engage children's heads, hearts, and hands. Imaginative activities offer links with Early Learning Goals, Science, Geography, History and give opportunities for developing literacy and numeracy skills.
Whatever the season, our reserves are the ideal place to visit for a day of fun, hands-on learning and engagement in the natural world.
To take your children on a journey of learning and discovery and for more information about the programmes we offer, timings and costs please email the Learning Team on
learning@gloucestershirewildlifetrust.co.uk
Download our Primary School brochure for 2020-21
Lots of hands-on practical activities for the children to try. We've been able to do lots of follow up work at school because their memories of the day are so strong. So much learning in a short period of time
The Annual Primary School Wildlife Quiz
Our annual countywide Wildlife School Quiz has been running since 1976 and is well known throughout Gloucestershire. Participation is free of charge thanks for the dedication of volunteers.
Due to COVID-19 we launched the first online Schools Nature Quiz in 2020 and are pleased to now share an online quiz that you can do with your class or at home.
Join us for three levels of questions and a video with our Learning Programme Manager and quiz volunteer presenting the questions and answers. Please find the videos, information sheets and certificates below.
Please note this quiz is just for fun, there are no winners and losers, it does not replace the annual quiz championships that we know are hotly contested each year. Please do send in your results to learning@gloucestershirewildlifetrust.co.uk – we would love to see how you do.
I do hope you will join us. Good luck!
Quiz answers and Certificate
If you have enjoyed using our learning resources, we'd really appreciate your support!