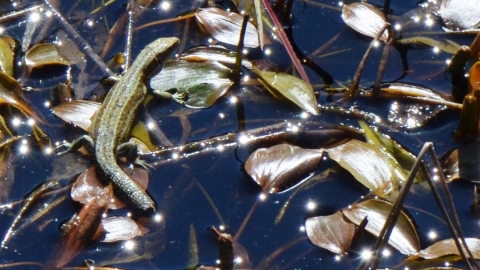 Course: Reptile Ecology
Location:
Cinderford,
Forest of Dean
The UK's native snakes and lizards face extinction unless we take action. This course aims to enable you to identify and survey suitable habitat, to identify species you find, and to assist in future reptile conservation.
About the event
The day includes a morning site visit to maximise the chances of finding reptiles at two nearby locations and to practise habitat assessment, survey techniques and identification. After lunch there is an indoor session learning reptile identification features, ecology, legal protection, recording and conservation best practice to consolidate learning.
Summary
Location: Cinderford
Tutor: Alan Sumnall
Date : Sunday 28th April 2019
Times: 09:30 – 16.00
Level: Open to All
Price: £49 per person, or £53.10 per person plus guide
Course expectations
Over the day the course will cover:
Identification and ecology of native UK reptiles
Habitat assessment and key features
Key threats to reptiles and conservation management
Surveying: timing, refugia, and recording results for conservation
Animal welfare, legal protection, health & safety and biosecurity measures
At the end of the course participants can expect to have a firm foundation of reptile identification, ecology, and survey best practice on which to build their field knowledge and conservation skills.
About the Tutor
Engaging and experienced tutor Alan Sumnall has been managing nature reserves for over 10 years. His enthusiasm comes across for all wildlife, but reptiles, dormice, butterflies and wildflowers are particular loves. His hard-earned practical and academic knowledge is backed up with a friendly and infectious approach.
Programme
09.15 : Registration and refreshments
09.30 : Welcome and introductions
09.40 : Field visit to two sites
12.30 : Lunch: bring a packed lunch.
13.30 : Indoor presentation
15.30 : Discussion and review of the day
16.00 : Course ends
All timings are approximate. This is an outline programme and may change according to the weather, requirements of the group or wildlife factors.
What we provide
Light refreshments
All equipment needed
Course pack
Certificate of Attendance
What to Bring
Essential:
Weather appropriate outdoor clothing (we advise clothing to cover arms, legs and feet).
Appropriate outdoor footwear with good grip.
A packed lunch and water.
Recommended:
Notebook and pencil
Binoculars
Camera
Your own guide book and hand lens if you have them
Useful Guides
Roberts, Froglife & Ovenden (1999) FSC Fold-out Chart – Reptiles and Amphibians Identification
Meeting point/Location
 Cinderford. Full directions given on booking. 
Parking and Transport
There is free but limited parking at all sites. There is a short drive required between the field site and indoor venue, so car sharing will be arranged on the day.
Accessibility and Health
If you have relevant medical or access requirements please let us know when booking.
The indoor venue has level access, disabled parking and toilet. Field visit approximately 3 hours on uneven, slippery and wet terrain.
Please contact course organiser Ellen Winter for more details - we are happy to work with you to facilitate attendance wherever possible.
About the Field Sites
Both sites are home to populations of all 4 widespread UK reptiles. One is managed for wildlife, the other mainly for people, with differing conditions, needs and approaches.
To read our Events Cancellation Policy, please click here.
Booking
Price
£49 per person, or £53.10 per person plus guide