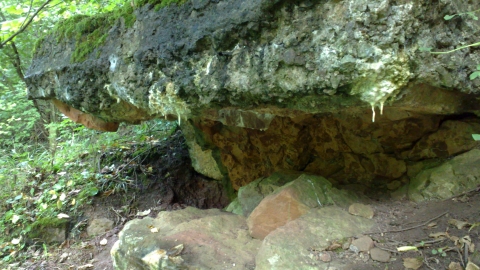 A great place to explore if you love both geological features, fossils and wildlife as the reserve is an SSSI for it's important geological features and the sheltered, sunny position makes it an ideal location for grassland butterflies and scrub-loving birds.
Know before you go
Entry fee
No
Grazing animals
No
Walking trails
Entry to the reserve is up steep steps.
When to visit
Opening times
Open at all times
Best time to visit
March to September
About the reserve
The steep dip of the quarry shows a wide range of rock types close to together. Excellent exposures of fossiliferous Lower Carbonifierous limstone shales are the best in the Forest of Dean. Their junctions with the Old Red Sandstone and with part of the Lower Dolomite formation are visible. The rocks have yielded fossils of sea lilies, water fleas and shellfish; these last are particularly apparent to the visitor. Great spotted woodpecker, gold-crest and numerous scrub-loving birds visit the reserve, resting amongst wild cherry, pendunculate oak, ash and wych elm. A good range of plants have colonised the shallow limestone soils including a fine show of common spotted orchid, and autumn gentian in late summer. The loose rocks and short grassland are ideal for snails, and host many species uncommon in the Forest of Dean and the banks and rocks bear a rich variety of mosses and liverworts.    
Environmental designation
Site of Special Scientific Interest (SSSI)