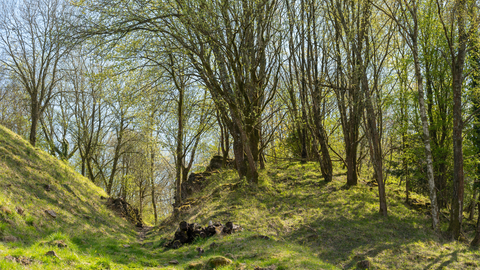 A great place to explore if you love both geological features, fossils and wildlife.
This SSSI has both important geological features and a sheltered, sunny position making it an ideal location for grassland butterflies and scrub-loving birds.
Location
Know before you go
Entry fee
Free
Parking information
Parking is available in a layby on The Stenders road, found on the left as you head out of Mitcheldean
Grazing animals
None
Access
Entry to the reserve is up steep steps, and the ground in the quarry is rather uneven due to logs and boulders, so care is needed when walking
When to visit
Opening times
Open access throughout the year
Best time to visit
March to August
About the reserve
Stenders Quarry is designated a Site of Special Scientific Interest (SSSI) on account of its variety of rock types, but its sheltered, sunny position makes it an ideal location for grassland butterflies. Birds including great spotted woodpecker, goldcrest and scrub-loving birds are drawn to its wild cherry, pedunculate oak, ash and wych elm. The reserve's shallow limestone soil is colonised by common spotted-orchid, along with autumn gentian later on, while the loose rocks are great for snails, mosses and liverworts. Bats roost in a tunnel under the quarry.
Geological interest
The steep dip of the quarry shows a wide range of rock types close to together. Excellent exposures of fossiliferous Lower Carbonifierous limstone shales are the best in the Forest of Dean. Their junctions with the Old Red Sandstone and with part of the Lower Dolomite formation are visible. The rocks have yielded fossils of sea lilies, water fleas and shellfish; these last are particularly apparent to the visitor.
History
The wet heathland at Cinderford was mostly destroyed by coal mining and afforestation during the eighteenth and nineteenth centuries. Stenders Quarry, previously known as Wilderness Cement Work Quarry, was gradually extended during the latter part of the nineteenth century and continued until 1918. An overhead tramway, built to carry the limestone, can be seen on the eastern side of the nature reserve.
The main quarry excavation was around 500 feet long, which is now the U-shaped gully with sloping grassland. The quarry was purchased and became a nature reserve in 1974.
Future Plans
Encouraging scarce limestone flowers by pushing back scrub, as well as thinning and coppicing trees to let light in. Derelict ant hills suggest that wildflowers once existed in larger quantities at both reserves.
Species
Environmental designation
Site of Special Scientific Interest (SSSI)
Parking information

While Stenders Quarry does not have allocated parking spaces, there is parking nearby.

The layby on The Stenders has a grid reference of SO660184 (What3Words: egging.passenger.huts).