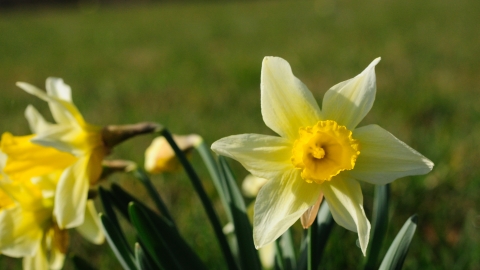 Vell Mill Daffodil Meadow
One of the best surviving wild daffodil meadows, once common in this part of Gloucestershire. Visit in March for an amazing golden carpet of our native wild daffodils. In 2011 we planted a traditional orchard on this site, with over 60 different traditional varieties of rare local plum, apple and pear. In the last 50 years around 75% of Gloucestershire's orchards have disappeared, changing the landscape and badly affecting wildlife habitat. This new young orchard at Vell Mill will connect other traditional orchards in the area (enabling wildlife to move and colonies to merge and become more robust).
Know before you go
Entry fee
No
Grazing animals
No
Walking trails
A free leaflet of the local 'Golden Triangle' daffodil walks can be requested from Gloucestershire Wildlife Trust.
When to visit
Opening times
Open at all times
Best time to visit
March to May
About the reserve
  Part of the 'Golden Triangle' this nature reserve forms part of the areas where, in the past, thousands of people would visit during the spring - traveling up from London on the train to pick the flowers to take back and sell.  By planting this new orchard we hope that as it matures the new habitat will provide homes for a number of nesting birds including green woodpecker, bullfinch, fieldfare, wren and song thrush, and insects such as the bumblebee, noble chafer, stag beetle (all of which are Biodiversity Action Plan priority species), and brimstone and peacock butterflies. It will provide an ideal setting for a range of plants to flourish, (cowslip, common dog-violet, meadow vetchling, barren strawberry and greater stitchwort), while enabling us to continue managing the site for wild daffodils. 
Contact us
Gloucestershire Wildlife Trust