Living Landscapes
Living Landscapes is the Wildlife Trust's approach to conservation of wildlife on a landscape scale.
We are working to transform the environment we live in: restoring, recreating and reconnecting wildlife-rich spaces in rural and urban areas by working in partnership with local communities, landowners, schools and businesses.
We want wildlife to thrive, to disperse and re-colonise our landscape so future generations can encounter, experience and enjoy our natural heritage, and so that we can too.
Our nature reserves provide great protection for wildlife, however species find themselves enclosed in these 'islands', surrounded by land, such as intensive farmland, which they are unable to occupy or expand into. Nature reserves on their own are not large enough to support stable and healthy populations over long periods of time.
To address this, we have adopted the Living Landscape approach to conservation.
A living landscape is not just a big nature reserve, but a mosaic of reserves, farmland, amenity land and built-up areas managed in such a way that wildlife and people can share it and which continues to function ecologically.
Mission Pine Marten
Gloucestershire Wildlife Trust, The Vincent Wildlife Trust, and the Forestry Commission, have collaborated on a pioneering project to explore the feasibility of reintroducing pine martens to the Forest of Dean.
The study lasted for two years, during which GWT have been engaging and consulting widely with local communities living in and around the Forest of Dean.
We are hoping to go forwards with a release in the autumn 2019 if we secure the funding. We are grateful to the following supporters of the project: Forestry Commission, Montague-Panton Animal Welfare Trust, Woodland Trust, Forest Holidays, Waterloo Foundation, Esmee Fairbairn Foundation, Taurus Foundation, The Rowlands Trust, Dame Edna Smithan Research Award, Alice Noakes Memorial Charitable Trust, private donors and everyone who contributed towards our pine marten appeal.
Cotswold Rivers
Recent surveys undertaken by us have shown a dramatic reduction in water vole populations in Gloucestershire. From the surveys carried out in 1978/89 and then 1997/98, there has been a staggering 83% decline in Gloucestershire alone.
Sadly in some counties water voles have become extinct or seen a staggering 90% drop. If ever there was a time to save this endearing and much loved character from leaving our wonderful Cotswold Rivers it is now.
We are grateful to the Thames Water Community Fund for providing our volunteers with tools and equipment to help our staff undertake conservation works in the Cotswold Rivers area.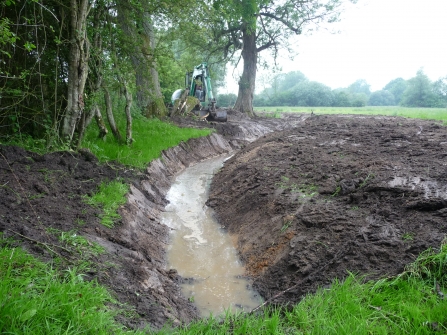 Lower Woods Better for Birds
Our Better for Birds project at Lower Woods will restore areas of ancient woodland by using traditional 'coppicing' techniques of thinning areas of woodland. This will improve 8.6 acres for a range of biodiversity, particularly woodland birds, including the song thrush, lesser spotted woodpecker, marsh tit, bullfinch and willow warbler at Lower Woods Nature Reserve.
Lower Woods Nature Reserve is one of the largest ancient woodlands in the south-west of England, covering three square kilometres in South Gloucestershire. Lower Woods is a magical place, steeped in history and home to a wide diversity of plants and animals, with over 2,500 species from dormice to over 57 species of birds. It is a fantastically diverse green space and is an easily accessible and free-to-use community asset which offers a great place for exploration and seclusion from the hectic modern world.
To bring more extensive areas of Lower Woods back to their former glory to benefit wildlife, we have been conducting coppice restoration in small areas of Lower Woods where ancient coppices were established through external funding and local coppicers. We are seeking funding to enable us to coppice an additional 8.6 acres in Oakhall Coppice (previously known as Horswood Coppice) and Sterts Coppice over the next two years to restore the ancient rotation of coppicing at Lower Woods to increase the foraging and nesting habitat for numerous woodland bird species which rely on young stages of woodland growth for their habitat. Due to the damaging effect deer browsing has on coppice and woodland regeneration, we also wish to deer fence 9.9 acres of the recent and newly coppiced areas. We will also restore rides and grassy connections between woodland areas which will benefit insects and foraging habitat for woodland birds.
The coppicing and restoration of rides within native woodland will benefit 57 species of bird which have been recently observed at Lower Woods as well as invertebrates and other woodland species. Bird surveys have been carried out at Lower Woods since 1975 (BTO Common Bird Census up to 2000; Scarce Woodland Bird Surveys 2005-2006; Bird Atlas Surveys 2007-2011). Birds which have bred in the last 20 years in the nature reserve and will benefit from our activities include: RSPB Red List species: song thrush, lesser spotted woodpecker and marsh tit (Lower Woods is probably the most important site in the former Avon area for this species); RSPB Amber List species: bullfinch and willow warbler. In addition, our activities will benefit whitethroat and the garden warbler, others breeding here in the last 20 years.
This wonderful project is being kindly funded by the Enovert Community Trust, the Lochlands Trust, Banister Charitable Trust, the Verdon-Smith Family Charitable Trust and a Wessex Watermark Award.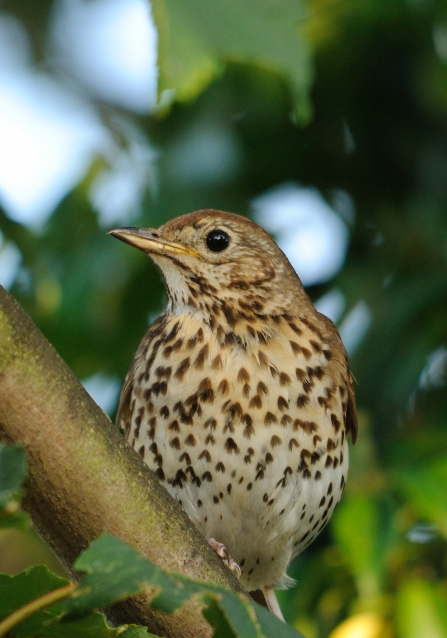 Better for Birds at Whelford Pools
Gloucestershire Wildlife Trust's Better for Birds at Whelford Pools project will improve habitats at our Whelford Pools nature reserve in the Cotswold Water Park for the birds that call this haven their home. Several species of Red and amber listed bird species are found in this nature reserve including teal, pochard, gadwall, shoveler, willow warbler, marsh tit and mistle thrush. We need a mosaic of wetland, grassland and woodlands to provide suitable habitat for these birds.
This project will conduct practical conservation measures including improvements to woodland, reedbed and grassland habitats. We will also replace a dilapidated bird hide to provide a new accessible bird hide with a special low viewing area for people in wheelchairs and pushchairs, to bring access to environmental education to all.
This project is kindly being funded by Tarmac, the Linley Wrightman Shaw Foundation and the Charles Irving Charitable Trust.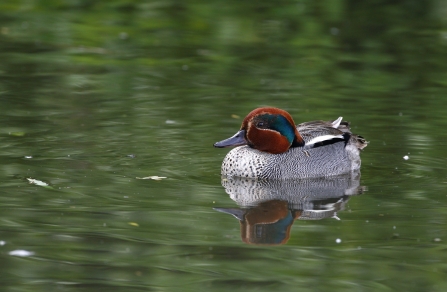 Warblers, Waders and Wildfowl project
The River Severn is the longest river in Great Britain, winding its way from the mountains of Wales to the broad reaches of the Bristol Channel. Alongside this beautiful river we look after five nature reserves which offer a watery home to a wide diversity of plants and animals, with 1,930 species including 134 species of birds, 10 species of dragonfly and damselfly and nationally rare beetles and plants. The Severn Hams reserves are fantastically diverse spaces, which are free-to-use community assets offering a great place for exploration. During the winter months, the reserves support flocks of overwintering curlew. Whilst spring brings a time for nesting and rearing young for the willow warbler, lapwing and pintail.
The Warblers, Waders and Wildfowl project will improve habitats at these nature reserves for the warblers, waders and wildfowl that call these wondrous areas their home. Wonderful warblers fill these nature reserves with their beautiful song, including the nationally threatened willow warbler and grasshopper warblers. The reserves also contain internationally threatened waders, such as lapwing and curlew, and wildfowl, such as pintail and pochard. This project will improve 241 acres through practical conservation measures including coppicing, creating deadwood, controlling vegetation growth, creating new breeding wader islands and reprofiling ditches.
This project is kindly being funded by Biffa Award, Smith's Gloucester Ltd, the Andrew Harris Charitable Trust and is going ahead thanks to generous donations from the Gordon Gray Trust and members of the public who donated to our Warblers, Waders and Wildfowl appeal.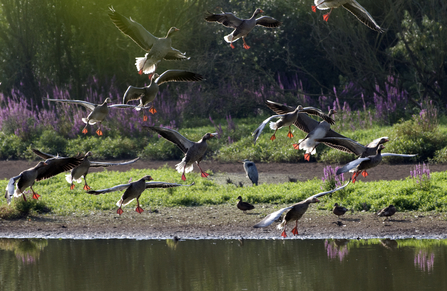 More Hooves for Horseshoes
The Forest of Dean is a UK bat hotspot, supporting 26% of the UK's breeding population of lesser horseshoe bats and 6% of the UK's breeding greater horseshoe bat. Across the country however our bat species have been in decline due to human activities. Despite being protected by law, bats have suffered dramatically elsewhere in the UK, meaning that the Forest is a vital stronghold that must be preserved. Our nature reserve, Stender's Quarry, is a perfect site to improve habitats for bats and build their population resilience.
Our project aims to improve the condition of grassland forage areas and woodland roosting areas. Our project will:
Purchase traditional native-breed sheep to help us manage our grasslands - grazing increases the animal dung on-site resulting in more insects and food resources for other species. Grazing also results in grasslands with a mosaic of different sward heights, which increases the number and range of plants.
Ensure long-term grazing on our grasslands - installing fencing means we can keep sheep safe whilst they are grazing our grasslands; we will also build a handling facility which will allow us to move the sheep more easily between nature reserves. This means we can improve grasslands for insects, birds and bats across more grasslands, more effectively.
Manage our woodlands - we will undertake a programme of tree works to improve important wildlife corridors along the woodland edge, including coppicing. This will result in a greater diversity of vegetation and thinned woodland edges, improving feeding areas and flight paths for birds and bats.
Together, these activities will help rare, endangered and threatened species recover within the Forest of Dean.
This project is being kindly funded by the Enovert Community Trust and Viridor Credits Environmental Company and is going ahead thanks to kind donations from the public towards our Forest of Dean appeal. We are currently seeking the remaining shortfall for the project costs, we would be delighted to hear from you if you are interested in donating funds towards this wonderful project.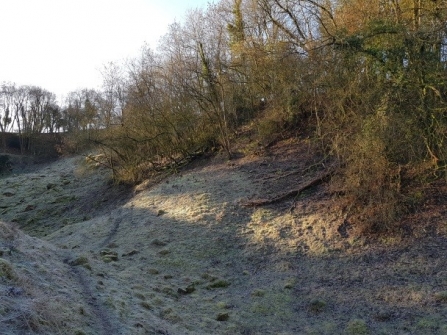 On the Wing
Gloucestershire Wildlife Trust's On the Wing project restored habitat for winged species on three local reserves. The project improved the resilience of priority flying species by undertaking conservation activities to improve and create suitable habitat to act as safe refuges throughout the Cotswold Water Park.
The project improved the following habitats for priority winged species:
Standing Open Water to provide desirable habitat for charophytes and emergent vegetation to maintain open flight-lines for overwintering waterfowl and nesting habitat for breeding waterbirds, including Red List species the Gadwall (Anas strepera) and Pochard (Aythya farina); maintain a native suite of submergent vegetation; and enhance opportunities for marginal plants, so crucial for emerging dragonfly and damselfly larvae;

Reedbeds so that there will be a range of habitats available for the reed bunting and cuckoos, forage habitat and refuga for dragonfly nymphs and roosting habitat for adult dragonflies;
Ponds to increase nesting/roosting sites for birds and bats and provide suitable basking areas for butterflies and dragonflies including the Downy Emerald dragonfly, Cordulia aenea;
Scrub to benefit song thrush, nightingale, grasshopper warbler and lesser redpoll;
Grassland to benefit the small heath butterfly (Coenonympha pamphilus);
Woodland by creating glades to benefit bats for foraging and butterflies for basking areas and increased nectar sources; and
Tern Rafts to benefit nesting terns and habitat for the red eyed damselfly and bird species on older tern rafts.
The wonderful project to revitalise our nature reserves in the Cotswold Water Park was kindly funded by Biffa Award, the HDH Wills 1965 Charitable Trust, the Alan Evans Memorial Fund, the Linley Wrightman Shaw Foundation and the Roger Vere Foundation.
Find out more in our project report.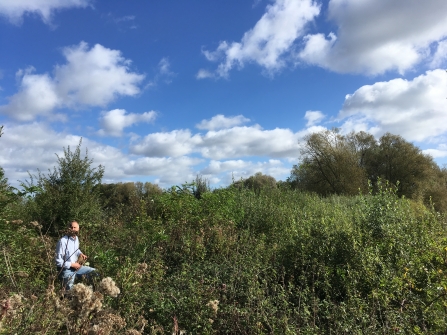 Boosting Box Wood's biodiversity
Box Wood is a 25-acre ancient woodland, recently acquired by the local community, from whom we have a 99-year lease to manage the wood as a Nature Reserve.
A Bioblitz in Spring 2017 to inform future management of Box Wood found 467 species in the nature reserve, of which 58 are protected species. We are developing a formal management plan with Forestry Commission approval. While the ongoing plan was in development, there was an urgent need to undertake the highest priority conservation activities, to remedy years of lack of management which are threatening the biodiversity of the woodland.
We boosted Box Wood's Biodiversity by removing and treating invasive non-native species; restoring and extending an existing species-rich limestone grassland glade from around a quarter of an acre to an acre; creating a new ride linking the enhanced grassland glade to a nearby Site of Special Scientific Interest (SSSI); and replacing and installing fencing to keep out livestock and provide an accessible entrance to Box Wood.
This brilliant project to help boost Box Wood's biodiversity was kindly funded by Biffa Award and Mrs C T M Dunn Charitable Foundation.
Please find more information in the project report.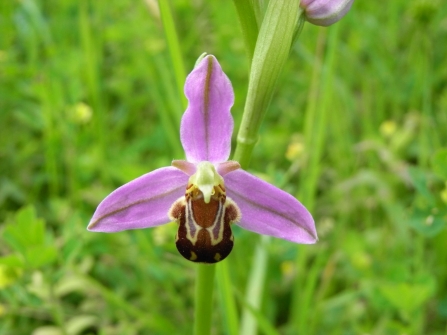 Barn Owl Recovery Project
Barn owls are a beloved species, iconic of the Cotswolds landscape and in the top 10 most loved wildlife in the UK. Unfortunately the future is bleak for the barn owl; it is currently declining in large numbers, particularly after a bad year in 2015. Through the Cotswolds Barn Owl Recovery project, Gloucestershire Wildlife Trust has been working with experts in the county to put up 60 barn owl boxes, providing a programme of landowner advice on land management for barn owls, and introducing survey and monitoring to measure the population's recovery following our actions to help the barn owl recover in its historical stronghold in the Cotswolds.
This project has been increasing the number of nesting sites for barn owls by installing nesting boxes inside agricultural buildings where nest boxes have not yet reached at saturation level, prey populations can support a higher number of barn owls and landowners are engaged in biodiversity. The boxes have been installed in pairs, to provide the male with space to go to when the eggs hatch. The boxes have been installed inside barns and other barn sites as supervised by a local barn owl expert. The project has also established monitoring of the boxes and ringing of the barn owls found in order to enable population information and trends to be monitored to help us understand the population dynamics of the barn owls in the River Windrush area to enable the barn owls' conservation.
The project was run in partnership with other local experts from the Gloucestershire Barn Owl Group, North Cotswold Ornithological Society, Cotswold volunteers group and landowners in the River Windrush area with the help of numerous volunteers who are playing a big role in the project – the majority of boxes have been built by volunteers, volunteers have helped to erect them and are monitoring the boxes alongside the North Cotswolds Ornithological Society.
This brilliant project to help barn owls recover in Gloucestershire was kindly funded by Grundon Waste Management, Montague Panton Animal Welfare Trust, Hamamelis Trust, Carter Conservation Trust, Cotswold Visitor Giving Scheme, Robert Clutterbuck Charitable Trust, Dent-Brocklehurst Family Charitable Trust and the many kind donations we received from members of the public towards our Barn Owl appeal.
Find out more in our project report.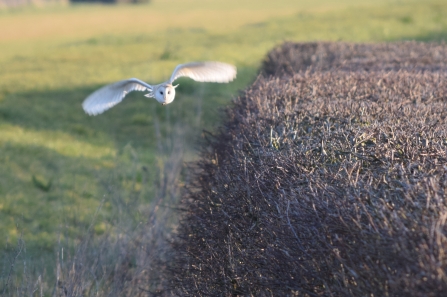 Lower Woods Track Improvement Project
During 2018 we improved the track at our Lower Woods Nature Reserve with the support of Ibstock Enovert Trust. Visitors to the nature reserve will now find an improved surface to the track which will improve visitor experiences and access to this wonderful nature reserve. This improvement will help ensure we are able to conduct sustainable woodland management to improve the habitat for the 2,500 species that live in our wonderful Lower Woods Nature Reserve.
Find out more about Lower Woods Nature Reserve here.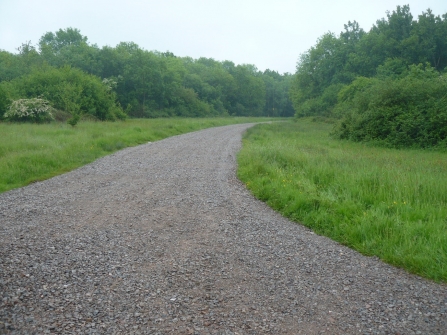 Dormice in Danger
In 2018 we improved habitat for the delightful but declining dormice at our precious nature reserves through our Dormice in Danger project. We are extremely grateful for the support from Grundon Waste Management, The Saintbury Trust, Ratcliff Foundation, The Naturesave Trust and all our supporters who donated to our dormouse appeal to enable our Dormice in Danger project to go ahead. Please find more information on the work we undertook through this wonderful project below in our Dormice in Danger Project Report.