Brighter Futures
The Wildlife and Habitat Management course is a six-week outdoor skills programme available in Gloucester, Cheltenham, Tewkesbury, Bourton-on-the-Water, Cirencester and the Forest of Dean. The programme is designed for long-term unemployed people and for those who feel marginalised due to learning difficulties, contact with the criminal justice system, social isolation or mental health issues.
Brighter Futures delivers significant improvements in wellbeing, transferable skills, motivation and employability while building lasting social networks between people who otherwise would not have met. Find out more on our Health and Wellbeing webpage, and watch a short film about a recent course to see the impact that the programme can have. 
Please contact us for more details.
Brighter Futures is being funded by the Gloucestershire Police and Crime Commissioner Fund, Morrisons Foundation, Gloucester City Homes, Santander Foundation, the Langdale Trust, the Winstone Charitable Trust, the D'Oyly Carte Charitable Trust, Thames Water Community Fund, Gloucestershire High Sheriffs' Fund, The Rowlands Trust, the Rotary in Gloucester and the Statham Family Charitable Trust.
Wild for Nature
Our Wild for Nature project is a new nationally-innovative project which aims to help women with multiple and complex needs, whose disadvantage means that accessing nature is difficult. This new approach uses the restorative benefits of helping wildlife to support people create a better future for themselves and their families through creative contact with wild places. We will run a series of fully funded 6 day courses to connect people to their local countryside. The courses will improve their wellbeing and relationships and help them to access other support and courses, including volunteering opportunities with us and other local organisations.
Our Wild for Nature project is being funded by The Pilgrim Trust, the Langdale Trust, the W F Southall Trust and the Stock Exchange Veterans Charity Association.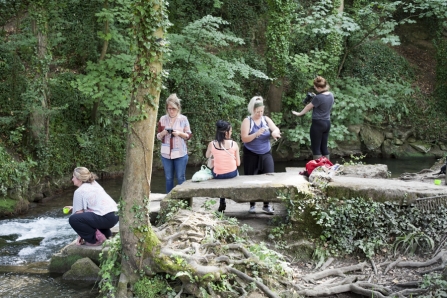 Our Bright Future
Since 2016, we've been leading a project with young people in urban areas of Gloucestershire. Through Our Bright Future, participants work together to improve green spaces in social housing areas learning new skills such as how to build bird boxes. The improvements made to the local area benefit residents, visitors and wildlife.
Young people from all walks of life participate in the project, which creates an excellent platform to improve social skills and build better social understanding. Teamwork is a key element in all of our sessions as we are keen to develop transferrable personal skills as well as practical skills – all of which give young people experience, improve their confidence and help them to prepare for paid employment.
Pupils from a wide range of schools and colleges are involved, including from five secondary schools (All Saints Academy, Bettridge School, Tewkesbury School, Barnwood Park Arts College and Beaufort Cooperative Academy), Gloucestershire College and Llanthony Secunda Priory.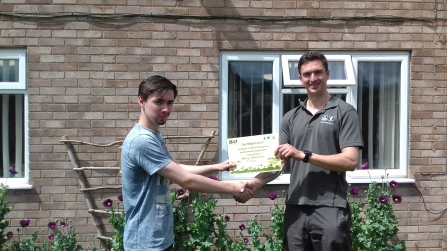 Going the Extra Mile
Gloucestershire Wildlife Trust is part of the Going the Extra Mile (GEM) Project that aims to engage with and support individuals in Gloucestershire who are currently dealing with circumstances that are potentially causing barriers to work and move these people closer towards education, training, volunteering or work, including self-employment. The GEM Project aims to engage with 1,100 people over the next three years until December 2019. This programme is a unique partnership of community based organisations, managed by Gloucestershire Gateway Trust on behalf of Gloucestershire County Council.
The GEM Project is jointly funded by the Big Lottery Fund and the European Social Fund.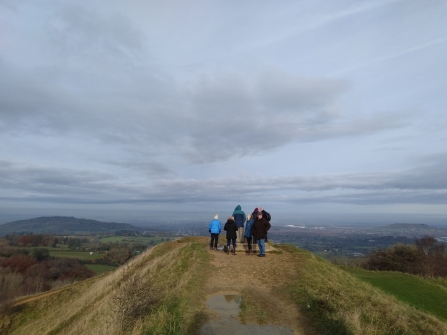 Nature on Prescription
Nature on Prescription is a course being offered to people who have suffered a cardiac event. It is about improving fitness, supporting local wildlife, and reaping the health benefits of spending time in nature. Sessions are in beautiful places in Gloucester and the Forest of Dean and give people the chance to connect with others who've had a similar experience, learn about wildlife around them, and improve their fitness by walking and taking part in conservation activities.  In turn, this helps to protect habitats and support wildlife to thrive.
This project compliments the existing Cardiac Rehabilitation Programme by providing an alternative for people who prefer to be outside. It is in the pilot phase at the moment and is the first time the NHS have funded a nature-based intervention for physical health in England. It is based on a strong collaborative process with the NHS and Gloucester Local Nature Partnership. We hope the project will grow so that in the future everyone is offered the chance to exercise and receive the support necessary for cardiac rehabilitation whilst benefiting from the many wonders of the natural environment.
It is funded by Gloucestershire Clinical Commissioning Group.