We are a wildlife charity working throughout Gloucestershire
We have a clear vision where each year there is more wildlife, more wild places and more people with a connection to the natural world. It's this vision that defines our strategic plan and the structure of the Trust. 
Gloucestershire Wildlife Trust also operates two limited companies: Gloucestershire Wildlife Management Ltd and Gloucestershire Wildlife Enterprises Ltd.
Our President
Our current President is BBC Countryfile's Ellie Harrison (pictured below). Ellie first became our President in December 2014.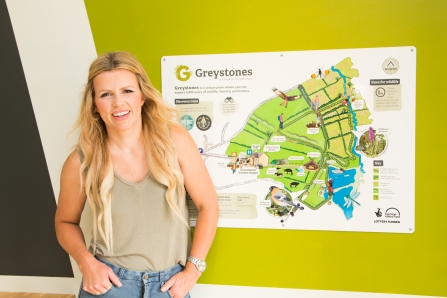 Board of Trustees
The Board of Trustees governs Gloucestershire Wildlife Trust. It has overall responsibility for GWT and sets our overall strategic direction.
Senior Management Team
The Senior Management Team has the day-to-day task of managing the Trust. It is responsible for our leadership and strategy as well as for the delivery of the strategic plan, annual business plan and budget.
Each member of the Senior Management Team is responsible for a different aspect of the operation of the Trust. Each delivers a variety of objectives while working towards the same purpose.
Land Management
The Land Management Team oversees the practical conservation work of Gloucestershire Wildlife Trust across more than 1000 hectares of nature reserves and within the wider landscape of the county. 
The team is split into three smaller teams - two of which oversee nature reserves in different areas of the county (east and west), and the third which works in the wider countryside with farmers and landowners to create bigger, better and more joined up areas for wildlife.
All of the Land Management Team work very closely with volunteer groups who are essential in enabling us to carry out our conservation work. 
Engagement & Learning
Gloucestershire Wildlife Trust aims to connect more people to the natural world whilst improving Gloucestershire's wildlife and wild places. ​
To support this aim, the Engagement & Learning Team works with communities across Gloucestershire, supporting and empowering them to be involved in, be part of and to take action for the natural environment. 
The Engagement & Learning Team also looks after our many volunteers, work experience placements and interns.
Evidence
The Evidence Team ensures that our work to conserve and restore Gloucestershire's wildlife and wild places is evidence-led. Our approach uses a combination of ecological monitoring, policy development, scientific research, citizen science and includes the Gloucestershire Centre for Environmental Records. We also work with partners and the planning system to inform nature restoration on land not owned by Gloucestershire Wildlife Trust.
External Relations
The External Relations Team is responsible for raising awareness of Gloucestershire Wildlife Trust's conservation work, nature reserves and projects, as well as encouraging others to support us.
Working with individuals, businesses, communities, trust and grant bodies, the External Relations Team raises money to ensure we can deliver our Strategic Plan. The team is also responsible for income-generating activities such as managing the Trust's cafés and increasing retail and other commercial opportunities, with the profits helping us to increase our conservation work to benefit wildlife in the county.
Business & Operations
This team is incorporated into all aspects of the Trust and provides operational support services to both the charity and its trading subsidiaries. It looks after the finances and other operational support functions, staff wellbeing, headquarters and visitor centre management, providing a warm welcome to all our visitors. 
All teams at the Trust are ably supported by our brilliant network of volunteers.  Without our volunteers we would only be able to complete a fraction of the work that is currently being undertaken.  If you are interested in finding out more about volunteering, please follow the link below: