We work on a lot of exciting projects across Gloucestershire, if you'd like to find out more or get involved please don't hesitate to contact us.
Click through below to see some of the projects we are currently working on across the county.
Connecting Wildlife and Wild Places
Pine Marten Feasibility Study

Gloucestershire Wildlife Trust, The Vincent Wildlife Trust, and the Forestry Commission, are collaborating on a pioneering project to explore the feasibility of reintroducing pine martens to the Forest of Dean.

The study will last for two years, and over this time GWT are keen to engage and consult widely with local communities living in and around the Forest of Dean. It is important that the public understand that no decision on the reintroduction has been made, or will be made before the study has ended. Discussion with local communities will be actively encouraged and all factors raised will influence the decision.
On the Wing

Gloucestershire Wildlife Trust's On the Wing project aims to restore habitat for winged species on three local reserves. The project aims to improve the resilience of priority flying species by undertaking conservation activities to improve and create suitable habitat to act as safe refuges throughout the Cotswold Water Park.

The project will improve the following habitats for priority winged species:

Standing Open Water to provide desirable habitat for charophytes and emergent vegetation to maintain open flight-lines for overwintering waterfowl and nesting habitat for breeding waterbirds, including Red List species the Gadwall (Anas strepera) and Pochard (Aythya farina); maintain a native suite of submergent vegetation; and enhance opportunities for marginal plants, so crucial for emerging dragonfly and damselfly larvae;

Reedbeds so that there will be a range of habitats available for the reed bunting and cuckoos, forage habitat and refuga for dragonfly nymphs and roosting habitat for adult dragonflies;
Ponds to increase nesting/roosting sites for birds and bats and provide suitable basking areas for butterflies and dragonflies including the Downy Emerald dragonfly, Cordulia aenea;
Scrub to benefit song thrush, nightingale, grasshopper warbler and lesser redpoll;
Grassland to benefit the small heath butterfly (Coenonympha pamphilus);
Woodland by creating glades to benefit bats for foraging and butterflies for basking areas and increased nectar sources; and
Tern Rafts to benefit nesting terns and habitat for the red eyed damselfly and bird species on older tern rafts.

The wonderful project to revitalise our nature reserves in the Cotswold Water Park is kindly being funded by Biffa Award, the HDH Wills 1965 Charitable Trust, the Alan Evans Memorial Fund, the Linley Wrightman Shaw Foundation and the Roger Vere Foundation.
Cotswold Rivers

Recent surveys undertaken by us have shown a dramatic reduction in water vole populations in Gloucestershire. From the surveys carried out in 1978/89 and then 1997/98, there has been a staggering 83% decline in Gloucestershire alone.

Sadly in some counties water voles have become extinct or seen a staggering 90% drop. If ever there was a time to save this endearing and much loved character from our wonderful Cotswold Rivers it is now.
Urban Wildlife
Hedgehog Way

Hedgehogs are one of the UK's fastest declining mammal species with urban areas supporting particularly important populations. Hedgehog Way will bring three urban communities together to improve hedgehog habitat connectivity, in response to local interest and information requests from Cheltenham and Gloucester communities on how to help hedgehogs. Our project will engage residents in neighbourhood-scale action to increase linkages for hedgehogs between gardens and green spaces, and test the effectiveness of widely-used hedgehog holes in increasing hedgehog movement. Residents will work with their neighbours to survey and track hedgehogs and create habitat improvements and hedgehog holes to create hedgehog ways.

Our project will result in:

Greater evidence base of effectiveness of hedgehog holes between green urban space and gardens with statistical analysis of the improvement of hedgehog dispersal due to creation of new hedgehog ways via hedgehog holes;
Increased habitat for hedgehogs with 30 new hedgehog ways created;
Greater understanding of number and spread of hedgehogs in area;
Improved and tested directions for personal use for hedgehog habitat improvements and links to resources they can go to;
Higher profile of hedgehogs in three target audiences with greater community action to support their survival;
A project report will be produced and disseminated widely to inform the long-term conservation of hedgehogs.

Our Hedgehog Way project is being funded by the People's Trust for Endangered Species, the British Hedgehog Preservation Society and Cheltenham Borough Council Community Pride.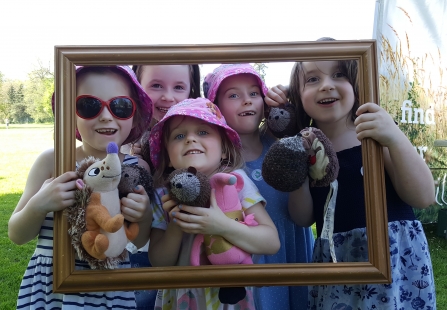 Education
Nature Tots

We are encouraging children and their parents to become active outdoors, learning about the wildlife and wild places of our beautiful county and benefiting from playing together through our Nature Tots sessions.

Our sessions' outdoor nature-based activities will include: finding, tracking & identifying wildlife, learning about the natural history of species & habitats, taking part in practical conservation & using tools safely, outdoor cooking (age dependent).

We are running 36 Nature Tots sessions in the Forest of Dean for up to 10 children per session and accompanied by at least one adult. We are running the sessions one morning a week during school term time alternative between the four locations across the Forest of Dean:

Forest School Area near Forest High School GL14 2SH
Angus Buchanan Play Fields GL16 8DS
Dean Field Study Centre GL15 4JA
Oakraven Field Centre GL17 0EE

Our Nature Tots sessions are being funded by the Summerfield Charitable Trust, Western Power Distribution and the Forest of Dean District Council.

Find out more about the Nature Tots sessions we are running here.

(c) Adrian Clarke
Cradle of the Cotswolds

Thanks to £676,000 award from the Heritage Lottery Fund we are now transforming Greystones Farm into a heritage education and discovery centre.

Grundon Waste Management, based in Bishops Cleeve, Cheltenham, donated £150,000 to Gloucestershire Wildlife Trust's 'Cradle of the Cotswold's' project in Bourton-on-the-Water – the first major grant secured for an exciting new education and discovery centre.

Other large contributions were made by The Gloucestershire Environmental Trust, who awarded £45,094 and The Summerfield Trust who awarded £2,000. We are also very grateful to a large number of individuals, business and trusts who made contribution that have helped to make this project possible. 

The Cradles of the Cotswolds project offers a huge range of exciting activities for people to learn about the heritage of the Cotswolds and get involved in restoring and maintaining it. It cater for all ages and abilities and is accessible for people with mobility issues.

The Greystones Farm discovery centre is open and more information including facilities and directions are available here.
Primary Schools' Quiz

Every year we host the Primary Schools Quiz, a very successful and well loved event, which over the years has increased hundreds of children's love of the natural world. 

From 6 initial schools, every year approximately 100 schools now take part, (a staggering 40% of all Primary schools in the County), showing that even under curriculum pressures teachers, parents and children still value eduating our children about wildlife as highly as other school extramural activities.
Natural Solutions
Building with Nature

Building with Nature is a new benchmark for the design and maintenance of green infrastructure in housing and commercial development and has been designed to support the creation of high quality green infrastructure throughout the planning and development process.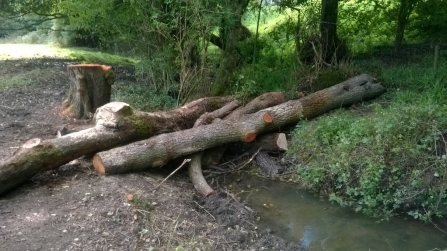 Health and Wellbeing
Brighter Futures

The Wildlife and Habitat Management course is a six-week outdoor skills programme available in Gloucester, Cheltenham, Tewkesbury, Bourton-on-the-Water, Cirencester and the Forest of Dean. The programme is designed for long-term unemployed people and for those who feel marginalised due to learning difficulties, contact with the criminal justice system, social isolation or mental health issues.

Brighter Futures delivers significant improvements in wellbeing, transferable skills, motivation and employability while building lasting social networks between people who otherwise would not have met. Find out more on our Health and Wellbeing webpage, and watch a short film about a recent course to see the impact that the programme can have. 

Find out more and sign up for a course here.

Brighter Futures is being funded by the Gloucestershire Police and Crime Commissioner Fund, Gloucester City Homes, Santander Foundation, the D'Oyly Carte Charitable Trust, Thames Water Community Fund, Gloucestershire High Sheriffs' Fund and the Statham Family Charitable Trust.
Wild for Nature

Our Wild for Nature project is a new nationally-innovative project which aims to help women with multiple and complex needs, whose disadvantage means that accessing nature is difficult. This new approach uses the restorative benefits of helping wildlife to support people create a better future for themselves and their families through creative contact with wild places. We will run a series of fully funded 6 day courses to connect people to their local countryside. The courses will improve their wellbeing and relationships and help them to access other support and courses, including volunteering opportunities with us and other local organisations.

Our Wild for Nature project is being funded by The Pilgrim Trust, the Langdale Trust, the W F Southall Trust and the Stock Exchange Veterans Charity Association. We are currently seeking further funding to enable us to deliver mixed group courses over the next two years.
 

Our Wild for Nature project is being funded by The Pilgrim Trust, the Langdale Trust, the W F Southall Trust and the Stock Exchange Veterans Charity Association.

We are currently seeking further funding to enable us to deliver mixed group courses over the next two years.

(c) Ruth
Going the Extra Mile Project

Gloucestershire Wildlife Trust is part of the Going the Extra Mile (GEM) Project that aims to engage with and support individuals in Gloucestershire who are currently dealing with circumstances that are potentially causing barriers to work and move these people closer towards education, training, volunteering or work, including self-employment. The GEM Project aims to engage with 1,100 people over the next three years until December 2019. This programme is a unique partnership of community based organisations, managed by Gloucestershire Gateway Trust on behalf of Gloucestershire County Council.

The GEM Project is jointly funded by the Big Lottery Fund and the European Social Fund.
Nature on Prescription

Nature on Prescription is a course being offered to people who have suffered a cardiac event. It is about improving fitness, supporting local wildlife, and reaping the health benefits of spending time in nature. Sessions are in beautiful places in Gloucester and the Forest of Dean and give people the chance to connect with others who've had a similar experience, learn about wildlife around them, and improve their fitness by walking and taking part in conservation activities.  In turn, this helps to protect habitats and support wildlife to thrive.

This project compliments the existing Cardiac Rehabilitation Programme by providing an alternative for people who prefer to be outside. It is in the pilot phase at the moment and is the first time the NHS have funded a nature-based intervention for physical health in England. It is based on a strong collaborative process with the NHS and Gloucester Local Nature Partnership. We hope the project will grow so that in the future everyone is offered the chance to exercise and receive the support necessary for cardiac rehabilitation whilst benefiting from the many wonders of the natural environment.

It is funded by Gloucestershire Clinical Commissioning Group.