We work on a lot of exciting projects across Gloucestershire, if you'd like to find out more or get involved please don't hesitate to contact us.
Click through below to see some of the projects we are currently working on across the county.
Robinswood Hill Development Project
Centre for Conservation & the Community

Gloucestershire Wildlife Trust has started its project in partnership with Gloucester City Council to redevelop the conservation centre at Robinswood Hill Country Park into a new centre for conservation and the community.

The original conservation centre building, home to Gloucestershire Wildlife Trust's head office, has been reimagined by Bristol based Childs Sulzmann Architects. Gloucester based construction company E G Carter & Co Ltd will be carrying out the redevelopment work through the autumn and winter months to bring the plans to life.

The development will include a new visitor welcome and information point, indoor café, flexible community and learning spaces, meeting rooms, agile workspace, and a volunteer hub. As well as being the headquarters of Gloucestershire Wildlife Trust, the building will also provide a base for Gloucester City Council rangers who manage Robinswood Hill.

The improved visitor facilities at Robinswood Hill aim to better meet the needs of visitors to this treasured local landmark, enabling them to spend more time outside, getting closer to the wildlife and heritage of Gloucester.

The conservation centre will re open in Spring/Summer 2020.

The project couldn't be completed without support from key funders Gloucester City Council, Summerfield Charitable Trust and Grundon Waste Management. Gloucestershire Wildlife Trust are also grateful for the support of Westmoreland Trust, Hobson Charity Ltd, Dove Construction Ltd, G R Lane Health Products Ltd, Hydro Components UK Ltd, International Plywood Co and our other funders.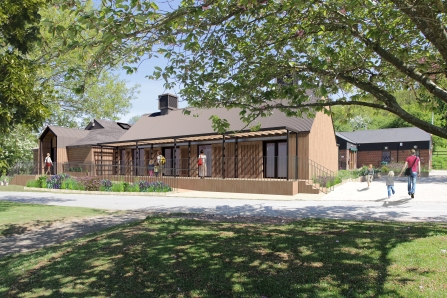 Connecting Wildlife and Wild Places
Project Pine Marten

Gloucestershire Wildlife Trust, The Vincent Wildlife Trust, and the Forestry Commission and Scottish National Heritage have collaborated on a pioneering project to reintroduce pine martens back to the Forest of Dean.
Cotswold Rivers

Recent surveys undertaken by us have shown a dramatic reduction in water vole populations in Gloucestershire. From the surveys carried out in 1978/89 and then 1997/98, there has been a staggering 83% decline in Gloucestershire alone.

Sadly in some counties water voles have become extinct or seen a staggering 90% drop. If ever there was a time to save this endearing and much loved character from our wonderful Cotswold Rivers it is now.
Lower Woods Better for Birds

Our Better for Birds project at Lower Woods will restore areas of ancient woodland by using traditional 'coppicing' techniques of thinning areas of woodland. This will improve 8.6 acres for a range of biodiversity, particularly woodland birds, including the song thrush, lesser spotted woodpecker, marsh tit, bullfinch and willow warbler at Lower Woods Nature Reserve.

Lower Woods Nature Reserve is one of the largest ancient woodlands in the south-west of England, covering three square kilometres in South Gloucestershire. Lower Woods is a magical place, steeped in history and home to a wide diversity of plants and animals, with over 2,500 species from dormice to over 57 species of birds. It is a fantastically diverse green space and is an easily accessible and free-to-use community asset which offers a great place for exploration and seclusion from the hectic modern world.

To bring more extensive areas of Lower Woods back to their former glory to benefit wildlife, we have been conducting coppice restoration in small areas of Lower Woods where ancient coppices were established through external funding and local coppicers. We are seeking funding to enable us to coppice an additional 8.6 acres in Oakhall Coppice (previously known as Horswood Coppice) and Sterts Coppice over the next two years to restore the ancient rotation of coppicing at Lower Woods to increase the foraging and nesting habitat for numerous woodland bird species which rely on young stages of woodland growth for their habitat. Due to the damaging effect deer browsing has on coppice and woodland regeneration, we also wish to deer fence 9.9 acres of the recent and newly coppiced areas. We will also restore rides and grassy connections between woodland areas which will benefit insects and foraging habitat for woodland birds.

The coppicing and restoration of rides within native woodland will benefit 57 species of bird which have been recently observed at Lower Woods as well as invertebrates and other woodland species. Bird surveys have been carried out at Lower Woods since 1975 (BTO Common Bird Census up to 2000; Scarce Woodland Bird Surveys 2005-2006; Bird Atlas Surveys 2007-2011). Birds which have bred in the last 20 years in the nature reserve and will benefit from our activities include: RSPB Red List species: song thrush, lesser spotted woodpecker and marsh tit (Lower Woods is probably the most important site in the former Avon area for this species); RSPB Amber List species: bullfinch and willow warbler. In addition, our activities will benefit whitethroat and the garden warbler, others breeding here in the last 20 years.

This wonderful project is being kindly funded by the Enovert Community Trust, the Lochlands Trust, Banister Charitable Trust, the Verdon-Smith Family Charitable Trust and a Wessex Watermark Award.
More Hooves for Horseshoes

The Forest of Dean is a UK bat hotspot, supporting 26% of the UK's breeding population of lesser horseshoe bats and 6% of the UK's breeding greater horseshoe bat. Across the country however our bat species have been in decline due to human activities. Despite being protected by law, bats have suffered dramatically elsewhere in the UK, meaning that the Forest is a vital stronghold that must be preserved. Our nature reserve, Stender's Quarry, is a perfect site to improve habitats for bats and build their population resilience.

Our project aims to improve the condition of grassland forage areas and woodland roosting areas. Our project will:

Purchase traditional native-breed sheep to help us manage our grasslands - grazing increases the animal dung on-site resulting in more insects and food resources for other species. Grazing also results in grasslands with a mosaic of different sward heights, which increases the number and range of plants.

Ensure long-term grazing on our grasslands - installing fencing means we can keep sheep safe whilst they are grazing our grasslands; we will also build a handling facility which will allow us to move the sheep more easily between nature reserves. This means we can improve grasslands for insects, birds and bats across more grasslands, more effectively.

Manage our woodlands - we will undertake a programme of tree works to improve important wildlife corridors along the woodland edge, including coppicing. This will result in a greater diversity of vegetation and thinned woodland edges, improving feeding areas and flight paths for birds and bats.

Together, these activities will help rare, endangered and threatened species recover within the Forest of Dean.

This project is being kindly funded by the Enovert Community Trust and Viridor Credits Environmental Company and is going ahead thanks to kind donations from the public towards our Forest of Dean appeal. We are currently seeking the remaining shortfall for the project costs, we would be delighted to hear from you if you are interested in donating funds towards this wonderful project
Warblers, Waders and Wildfowl project

The River Severn is the longest river in Great Britain, winding its way from the mountains of Wales to the broad reaches of the Bristol Channel. Alongside this beautiful river we look after five nature reserves which offer a watery home to a wide diversity of plants and animals, with 1,930 species including 134 species of birds, 10 species of dragonfly and damselfly and nationally rare beetles and plants. The Severn Hams reserves are fantastically diverse spaces, which are free-to-use community assets offering a great place for exploration. During the winter months, the reserves support flocks of overwintering curlew. Whilst spring brings a time for nesting and rearing young for the willow warbler, lapwing and pintail.

The Warblers, Waders and Wildfowl project will improve habitats at these nature reserves for the warblers, waders and wildfowl that call these wondrous areas their home. Wonderful warblers fill these nature reserves with their beautiful song, including the nationally threatened willow warbler and grasshopper warblers. The reserves also contain internationally threatened waders, such as lapwing and curlew, and wildfowl, such as pintail and pochard. This project will improve 241 acres through practical conservation measures including coppicing, creating deadwood, controlling vegetation growth, creating new breeding wader islands and reprofiling ditches.

This project is kindly being funded by Biffa Award, Smith's Gloucester Ltd, the Andrew Harris Charitable Trust and is going ahead thanks to generous donations from the Gordon Gray Trust and members of the public who donated to our Warblers, Waders and Wildfowl appeal.
Lower Woods Plantation on Ancient Woodland Site (PAWS) Project

Lower Woods is over 593 acres of ancient broad-leaved woodland (that's 593 football fields!), and is renowned for its outstanding wildlife. A restoration project is now underway to improve this woodland even more.

In the far south of Lower Woods, we're felling 7 acres of non-native Western red cedar and Norway spruce through our Lower Woods PAWS project. These trees were commercially planted after World War II, but have very little benefit to native wildlife. The felled area will be temporarily fenced off to allow native trees to grow in this new space, while also encouraging plants such as wood anemone, dog's mercury, wood sorrel and yellow archangel to flourish.

These native trees will take a few years to establish and the fence will then be removed.

This project is kindly being funded by Network Rail as part of its Greater West Programme: Achieving No net Loss.
Lower Woods Release the Titans

Through the Release the Titans project, we will release 25 mature or veteran oak trees from their faster growing non-native spruce neighbours to let more daylight in and remove competition for water and nutrients. We will also extend the rides in the south of Lower Woods to improve access and to open up areas to increase space and light around these titan oaks. The oak crowns are being suppressed by the shade from the canopy of the taller spruce trees. By removing the competing trees from around the oaks over two seasons, the oak crowns will be released to expand into their true space and magnitude.

This project is kindly being supported by the Ibstock Enovert Trust and the Verdon-Smith Family Charitable Trust.
The Golden Valley Communities for Insects

The Golden Valley is famous for species-rich grasslands and butterflies, within 4km of gently rolling banks in the heart of the Cotswolds from east of Stroud Town to Sapperton. Our 10-year vision for the area is to create a nationally recognised, wildlife-rich landscape, resilient against future environmental and climate change, by targeting habitat improvements for insects. This project will deliver the first pivotal part of this vision.

Across the Cotswolds, 96% of species-rich grassland has been lost since the 1940's. Numerous plants and insects are found nowhere else and have declined dramatically; fragile refuge populations threatened by habitat fragmentation are left isolated on well-managed nature reserves.

We will create a landscape where threatened insects can thrive by enhancing, expanding, and connecting existing GWT and RES's wildlife-rich sits, including Daneway Banks home to the largest, critically endangered large blue butterfly population. We will work with 71% of the valley's landowners and our local volunteer group through species-specific management across 23.8ha:

Coppicing 1ha of woodland
Creating scalloped edges along woodland rides
Removing scrub from 1ha of woodland
Cutting 0.6ha of meadows
Installing 3.9km fencing and water supplies to enable conservation grazing

Benefits

Landscape will be enhanced and conserved by empowering landowners to make long-term changes to manage land for wildlife.
Increased resilience of endangered and threatened insect populations, including 29 BAP species.
Insect sightings increase for thousands of people using the extensive network of public footpaths across all project sites.

Funders

Lead funder Biffa Award. With match funding from Cotswolds National Landscape (CNL) and Royal Entomological Society (RES).
Urban Wildlife
Hedgehog Way

Hedgehogs are one of the UK's fastest declining mammal species with urban areas supporting particularly important populations. Hedgehog Way will bring three urban communities together to improve hedgehog habitat connectivity, in response to local interest and information requests from Cheltenham and Gloucester communities on how to help hedgehogs. Our project will engage residents in neighbourhood-scale action to increase linkages for hedgehogs between gardens and green spaces, and test the effectiveness of widely-used hedgehog holes in increasing hedgehog movement. Residents will work with their neighbours to survey and track hedgehogs and create habitat improvements and hedgehog holes to create hedgehog ways.

Our project will result in:

Greater evidence base of effectiveness of hedgehog holes between green urban space and gardens with statistical analysis of the improvement of hedgehog dispersal due to creation of new hedgehog ways via hedgehog holes;
Increased habitat for hedgehogs with 30 new hedgehog ways created;
Greater understanding of number and spread of hedgehogs in area;
Improved and tested directions for personal use for hedgehog habitat improvements and links to resources they can go to;
Higher profile of hedgehogs in three target audiences with greater community action to support their survival;
A project report will be produced and disseminated widely to inform the long-term conservation of hedgehogs.

Our Hedgehog Way project is being funded by the People's Trust for Endangered Species, the British Hedgehog Preservation Society and Cheltenham Borough Council Community Pride.
ERDF Wild Towns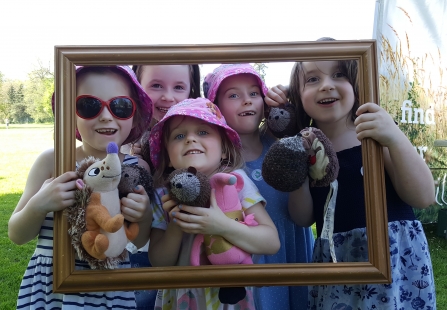 Education
Cradle of the Cotswolds

Thanks to £676,000 award from the Heritage Lottery Fund we are now transforming Greystones Farm into a heritage education and discovery centre.

Grundon Waste Management, based in Bishops Cleeve, Cheltenham, donated £150,000 to Gloucestershire Wildlife Trust's 'Cradle of the Cotswold's' project in Bourton-on-the-Water – the first major grant secured for an exciting new education and discovery centre.

Other large contributions were made by The Gloucestershire Environmental Trust company, who awarded £45,094 and The Summerfield Charitable Trust who awarded £20,000. We are also very grateful to a large number of individuals, business and trusts who made contribution that have helped to make this project possible. 

The Cradles of the Cotswolds project offers a huge range of exciting activities for people to learn about the heritage of the Cotswolds and get involved in restoring and maintaining it. It cater for all ages and abilities and is accessible for people with mobility issues.

The Greystones Farm discovery centre is open and more information including facilities and directions are available here.
Primary Schools' Quiz

Every year we host the Primary Schools Quiz, a very successful and well loved event, which over the years has increased hundreds of children's love of the natural world. 

From 6 initial schools, every year approximately 100 schools now take part, (a staggering 40% of all Primary schools in the County), showing that even under curriculum pressures teachers, parents and children still value eduating our children about wildlife as highly as other school extramural activities.
Natural Solutions
Building with Nature

Building with Nature is a new benchmark for the design and maintenance of green infrastructure in housing and commercial development and has been designed to support the creation of high quality green infrastructure throughout the planning and development process.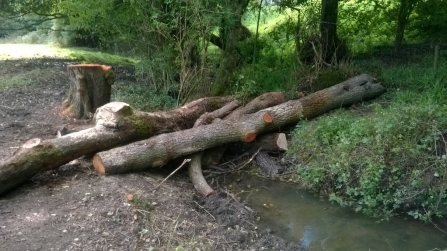 Health and Wellbeing
Brighter Futures

The Wildlife and Habitat Management course is a six-week outdoor skills programme available in Gloucester, Cheltenham, Tewkesbury, Bourton-on-the-Water, Cirencester and the Forest of Dean. The programme is designed for long-term unemployed people and for those who feel marginalised due to learning difficulties, contact with the criminal justice system, social isolation or mental health issues.

Brighter Futures delivers significant improvements in wellbeing, transferable skills, motivation and employability while building lasting social networks between people who otherwise would not have met. Find out more on our Health and Wellbeing webpage, and watch a short film about a recent course to see the impact that the programme can have. 

Find out more and sign up for a course here.

Brighter Futures is being funded by the Gloucestershire Police and Crime Commissioner Fund, Morrisons Foundation, Gloucester City Homes, Santander Foundation, the Langdale Trust, the Winstone Charitable Trust, the D'Oyly Carte Charitable Trust, Thames Water Community Fund, Gloucestershire High Sheriffs' Fund, The Rowlands Trust, the Rotary in Gloucester and the Statham Family Charitable Trust.
Going the Extra Mile Project

Gloucestershire Wildlife Trust is part of the Going the Extra Mile (GEM) Project that aims to engage with and support individuals in Gloucestershire who are currently dealing with circumstances that are potentially causing barriers to work and move these people closer towards education, training, volunteering or work, including self-employment. The GEM Project aims to engage with 1,100 people over the next three years until December 2019. This programme is a unique partnership of community based organisations, managed by Gloucestershire Gateway Trust on behalf of Gloucestershire County Council.

The GEM Project is jointly funded by the Big Lottery Fund and the European Social Fund.
Nature on Prescription

Nature on Prescription is a course being offered to people who have suffered a cardiac event. It is about improving fitness, supporting local wildlife, and reaping the health benefits of spending time in nature. Sessions are in beautiful places in Gloucester and the Forest of Dean and give people the chance to connect with others who've had a similar experience, learn about wildlife around them, and improve their fitness by walking and taking part in conservation activities.  In turn, this helps to protect habitats and support wildlife to thrive.

This project compliments the existing Cardiac Rehabilitation Programme by providing an alternative for people who prefer to be outside. It is in the pilot phase at the moment and is the first time the NHS have funded a nature-based intervention for physical health in England. It is based on a strong collaborative process with the NHS and Gloucester Local Nature Partnership. We hope the project will grow so that in the future everyone is offered the chance to exercise and receive the support necessary for cardiac rehabilitation whilst benefiting from the many wonders of the natural environment.

It is funded by Gloucestershire Clinical Commissioning Group.