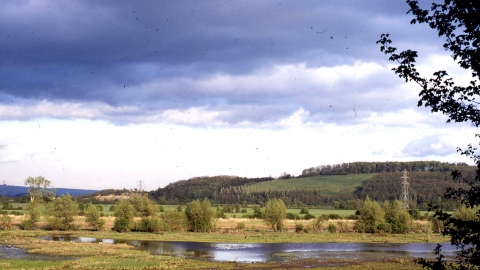 Ashleworth Ham lies in the floodplains of the Severn Vale and is part of a much larger SSSI. It floods easily, particularly over the winter, which makes it the perfect wetland for overwintering wildfowl.

Know before you go
Entry fee
No
Grazing animals
No
Walking trails
The viewing screen access is down an earth bank with a linear gradient of 26% over a 4-5 metre distance. There are a variety of viewing heights. The access to the observation hide is via a short flight of steps with formal handrails. The step width is 1.2m and the path to the hide narrows to 500mm from the top of the steps. Phone the Reserve Manager before your visit to see if any improvements have been made and to check on current ground conditions (Jackie Birch 07734 599585).
Access
You need a permit to visit Ashleworth Ham, but there are viewing screens and a hide along the roadside that allow you to take in the wonderful views the reserve has to offer without disturbing the birds.
When to visit
Opening times
Viewing hides only - open 24/7/365
Best time to visit
All year round
About the reserve
Ashleworth Ham nature reserve lies in the floodplains of the River Severn. Over winter months it becomes the perfect habitat for wildfowl including pintail, teal, shoveler, tufted duck, pochard, wigeon, goldeneye and great crested and little grebes. Tufted duck, pochard, goldeneye, great and little grebe are amongst the diving birds at peak floods. Regular visitors also include Bewick's swan and white-fronted geese. There is a small breeding population of mallard, lapwing, snipe, curlew and redshank. Other breeding species include redstart, greasshopper warbler, sedge warbler, yellow wagtail and reed bunting. The meadows are also used as a feeding ground by many migrants. Snipe are the most common but whimbrel, green sandpiper, greenshank and ruff may be seen.  In some winters up to 4,000 fieldfare may be present and peregrine falcon and hobby may be seen, these birds being attracted by the small birds.
Environmental designation
Site of Special Scientific Interest (SSSI)